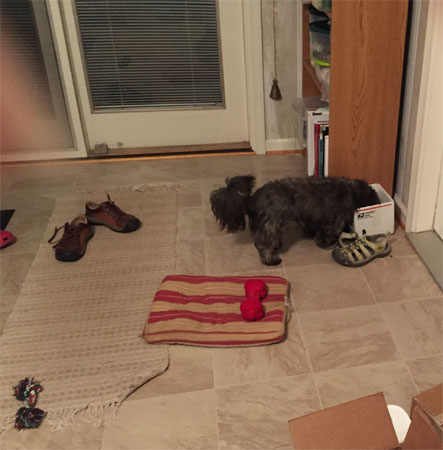 Weeks ago I picked Jack's toys up from around the house I put them in a little cardboard box. The box was big enough to hold all his toys (he doesn't have that many) and small enough that he could reach into it easily. He never got anything out. I had to go pull out a toy or two when it was play time.
Till Wednesday. That was the first time ever that Jack went into his toy box and took things out. I had to put them back in later that day to vacuum. This evening he took them out again. This seems like a good step forward to me.
And in the last 3 days we've bumped into 3 different women walking their dogs. As always, he's fine with the dogs, but sometimes he stretches his leash as far away from the human as possible. He didn't do that with any of these 3 women. In fact, he let 1 of those women reach down to him and get within about 8″ of his face. Amazing!
Finally, with our mild temps this week, twice I left Jack in the yard while I was out. Twice I came home and he wasn't in his usual place – huddled on the cold stone steps – but was out in the yard.
So we're making progress. Baby steps, but they're still steps. On Tuesday he'll meet the animal behaviorist for the first time. I can't wait to see what he has to say.