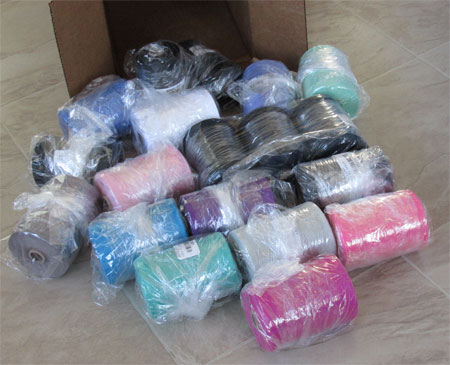 As planned, I received a box of yarn on Monday afternoon. This contains what I need to weave the next two warps of baby wraps — 4 wraps plus. What's the plus, you say? The first warp, for KG, totaled 6.2 meters. I can weave up to 10 meters finished length, so decided I'd add some length to this warp for me. I'm going to weave 3 yards of fabric…yardage…and decide later exactly what I'm going to do with it. Maybe I'll make a vest, maybe a poncho/shrug/ruana-type thing.
Here is the lineup for the warp that KG and I will share.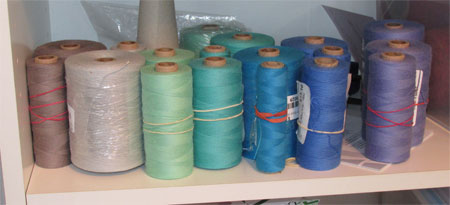 From left to right it's gris fonce, gris pale, vert pale, turquoise, bleu moyen, bleu, and periwinkle. I got the first bout wound today and then my sciatica started talking to me 🙁 so I needed to rest. I'm hoping to get the second bout wound this afternoon/evening. I have several commitments over the next 3 days, so the progress won't be fast on this one.
KG, who's pregnant with twins, is getting 2 wraps – a long one with a white weft and a short one for a ring sling with a charcoal weft.
Me? I bought navy rayon for weft, but may change my mind. Maybe black rayon chenille? Maybe cream bamboo? Maybe cotton in an as-to-be-determined color? I'm not sure yet, but am looking forward to this little adventure.