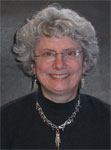 I'm Margaret (Peg) Cherre, the artist behind Second Wind Weaving. I do all of the designing and weave every piece by myself, working in my home in upstate New York.
Handweaving is my passion. I love working with a wide range of fabrics, experimenting with colors and textures, widths and lengths, weaving patterns and methods. I like to make handwoven scarves and shawls that are warm and cuddly and others that are lightweight and dressy. I use rayon and cotton, sik and chenille, cashmere and mohair, alpaca and bamboo, hemp and linen, and other fibers as they grab my attention and interest.
I also love weaving custom handwoven baby wraps. I work individually with moms, designing from their color choices and inspiration images, blending colors and weave patterns until with have jointly created a thing of beauty and style. Then I warp wtih the softest cotton to cuddle baby in comfort.
Making functional textiles for the home — towels, placemats, table runners, and more — delights me.  Combining the durability and utility of cotton with a range of designs from understated and classic to bold and geometric, provides a blend of utility and beauty.
I have been working in various media – from knitting and crocheting to sewing and macrame to gardening and home decor – for more than 40 years, most recently adding handweaving to my repertoire.
The name of my business – Second Wind Weaving – comes from three facts:
I started this business later in my life, when I got my second wind,
I do all my weaving on vintage, handmade floor looms that I brought back to useful life after years of sitting idle, and
I package my scarves, shawls, and baby wraps in repurposed packaging, which I also create myself.