Although most trees have already lost their leaves, a few things in my yard are just now putting on their shows.
Here's a spirea, flaming color at the top.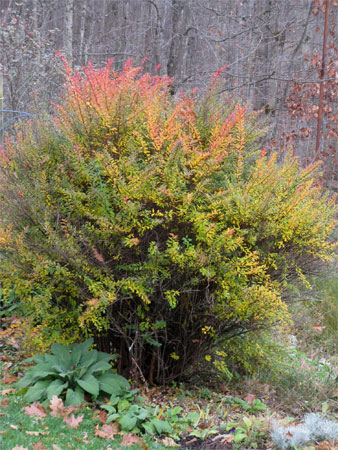 Ignore the power poles and line in this photo (should have taken it from someplace else) and just focus on that Bradford pear tree. Deep red-orange with burgundy and dark green.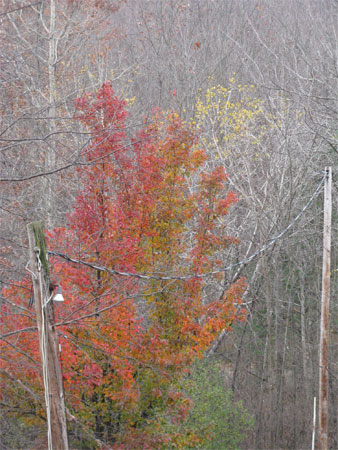 I mentioned that I was knitting a baby blanket for my niece. It will be delivered to her tomorrow, so I think I'm safe in posting it now.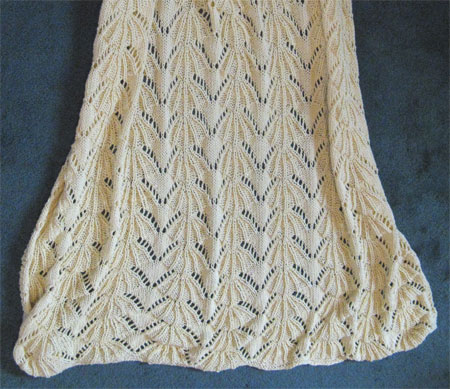 She really wanted organic cotton, and in a color that would work for both boys & girls, so I chose this soft yellow in Debbie Bliss ecobaby. It's organic, fair trade cotton, spun & dyed in Italy. It wasn't hard to work with and I like the way it turned out. Then and only then did I pay attention to the care instructions: machine wash, barely warm water, gentle cycle, no bleach — ok, not too onerous. Here's the bad news — do not tumble dry. What?! For a baby item?! It wasn't easy to get this dry without hanging it and making it all stretch out of shape. I can't imagine dealing with that restriction on a regular basis. If it was mine, I'd probably end up tossing it in the dryer after the 2nd wash & just accept whatever happened.