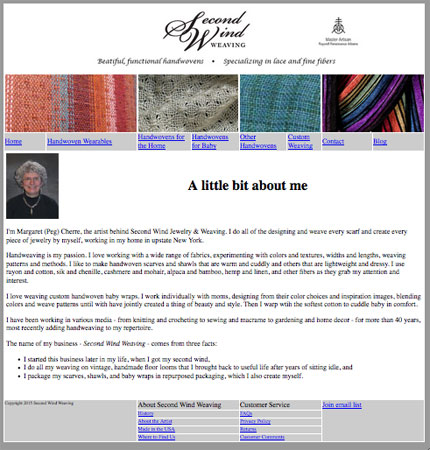 If you've ever bought a house and moved, you know there's plenty of hurry up & wait that goes on. I've been packing a bit at a time for weeks, and am down to not being able to do much more till I have an firm close date and move date. I've already been in the position of having to open a few boxes to get things out that I packed too soon – grrr!
Meanwhile I can't weave, so as planned, I've been working on a complete re-design of my website. Needless to say, web design is a language unto itself, and like any other language it's a use-it-or-lose-it thing. Since it's been years since I've done it, I had two false starts, a couple hours each, before I got myself going in the right direction. Technically, that is. I'm not sure that the design will be what I want, but I had to start somewhere.
What do you think of the design? Of course, you're seeing an image of a sample page. Few of the links are built yet. A page like this one, that's mostly text, is the easy part. Designing the product pages will be much more time consuming to make them look good, I think. Plus I'll have to figure out just what I can show…will my website ever be such that people can order directly from the web, or it will be more of a gallery, showing examples of my work? The latter is certainly easier and doesn't require constant updating, but….I don't know.
Please give me your constructive criticism of the design and the gallery-vs.-product order pages.
Need for feedback aside, I can do just so much of this technical stuff, which requires lots of sitting on my butt and tons of mental energy, in a day. Then I need to do something else. As noted, I've got most of the packing done. It's been way too hot to work in the garden. I'm learning just how much the weaving calms me, fills my time with happiness, makes me feel productive.
Since I can't weave, I am working with a few moms to plan their baby wrap warps so I can order yarn and get going quickly in my new studio. (I assume that I'll choose to unpack a bit at a time, too, just like the packing.) Some moms work faster than others and I'm currently at a standstill, so I've been thinking about baby blankets, since there will be a new baby in the family late this year.
I knit a baby blanket for my niece (South Carolina) from organic cotton last year. Should I use the same yarn and knit one for my nephew (Dallas)? That makes sense and it's definitely not too early to get started, but I can't order the yarn yet. Why? All my knitting books are…packed, of course! Should I weave him one out of the really soft cotton flannel I like so much? It's my absolute favorite for baby blankets. Or maybe I should make him one of bamboo? Or the cotton I use for my wraps, but sett much more loosely?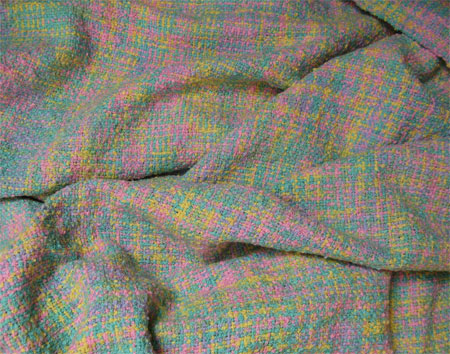 I think knit is the way to go. Should I try to figure out which box the knitting books are in? Should I??
I'm at loose ends.