After weaving and finishing those 11 scarves I went off to do a show. It's one that I love doing – the crowd is always so interesting and so supportive, the volunteers are helpful, and I get to work with my sister.
This year was no exception – Buffalo turned out for the Elmwood Avenue Festival of the Arts and appreciated the work of the artists and crafters who were there. It was again a very good show for me.
I came home, went back to work at my paycheck job, and again set to weaving, this time in rayon chenille since my next show is in October. I do love the finished product, and the actual weaving is quick, but oh, beaming that warp! I blissfully forget from year to year just how tedious and time consuming beaming rayon chenille is. It takes MUCH longer than beaming any other fiber I work with. Still, worth the effort to me.
On this four-day weekend I got two warps of three scarves each on and off the loom. Pretty good progress, if I do say so myself. Didn't vacuum, but I did do some shopping & cooking, plus some other high-priority tasks.
One of them was taking a trip back to Angelica because my community weaving project was finally hung! I think it looks great out in front of Stacy's pottery studio.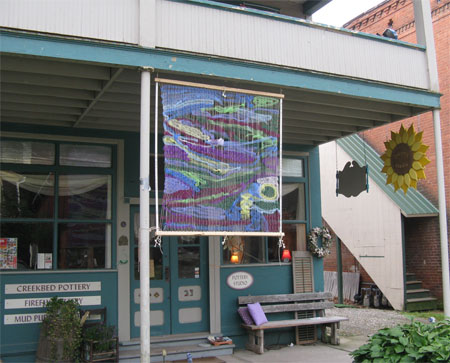 When I did this project back in late July, no one anticipated it would take this long to get it in it's sort of permanent location. I say sort of permanent, since none of us have a clue how long the weaving will last, and how much damage weather will wreak, particularly in the loosely woven areas.
I think it's pretty amazing how different it looks from the front, with the building behind it, and from the back, standing on the door stoop with the sky behind it.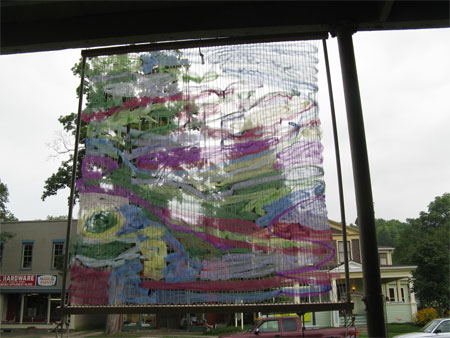 I think it's also cool just looking up at it.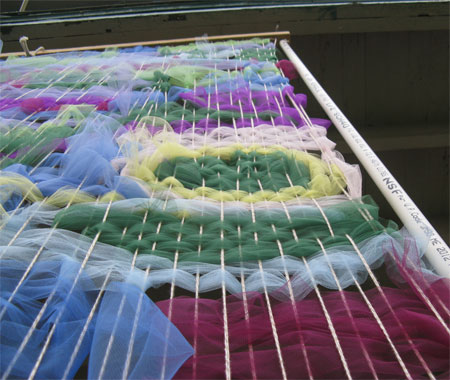 After taking these shots I went to the farmer's market and bought the biggest cauliflower I've ever seen – for only $3.00! I came home and made a terrific cauliflower curry from the first Moosewood Cookbook. YUM!