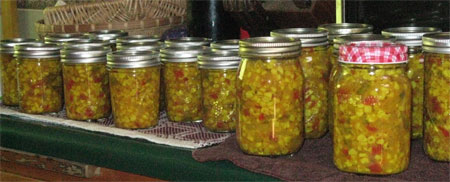 Isn't that beautiful?!
Seeing the results of my preserving labor is always rewarding. I make holiday gifts for my board of directors every year. This year I had lots of cukes given to me so I made some frozen sweet pickles, and decided the other half of their gift would be corn relish. I've never made it before and found many recipes – all different, of course. So I rather made up my own.
The first batch, which resulted in 14 half-pints, was much more vinegary than I had in mind, so I sweetened it up for the second batch, which made 8 pints. The first batch also had more total liquid than I wanted. So here's the recipe I ended up with for the second batch.
about 9 cups fresh corn
1 chopped vidalia onion
1 chopped red bell pepper
1 chopped green bell pepper
1 chopped large tomato, peeled & seeded
1/2 chopped cucumber, peeled
2 cups vinegar (could have been a touch more)
2 cups sugar
1 Tablespoon each celery seed, mustard seed, turmeric, & salt
4 teaspoons dry mustard (might have used more if I had it)
Cook the corn & remove from cob. Scrape cob with spoon to collect all the juices. Mix all ingredients, bring to boil. Simmer 20 minutes. Pack hot, into hot jars & process in hot water bath 15 minutes.
Yum!