Of course we know that 4+79=83, but not in my world. Nope. 4 finished pieces + 79 bags = um…you can't add those things together. But I did sew and string 79 bags in a few different sizes for packaging at my shows this year. Used about 60 yards of ribbon. Yes, 60 yards of ribbon.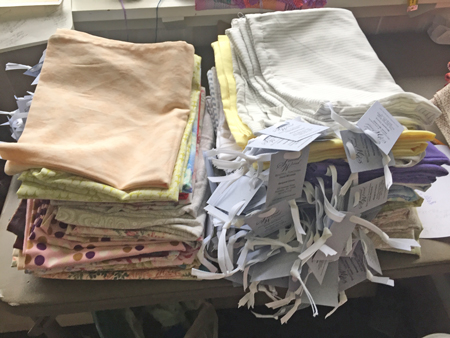 I got four more pieces woven and finished so far this month. All on the last handpainted warp I had. Again, this is living coral and turquoise in 8/2 tencel, but this time the yarn was all painted in skeins, not warps. This type of dyeing has its own beauty, although I think I prefer painted warps over painted skeins.
That being said, I'm happy with all four pieces. First up is a jacket woven with an 8/2 black tencel weft. I threaded the loom with a point twill, and used an M & W treadling. The weather has been so beautiful that I brought Lady Jane and Dolly both out in the evening for photos.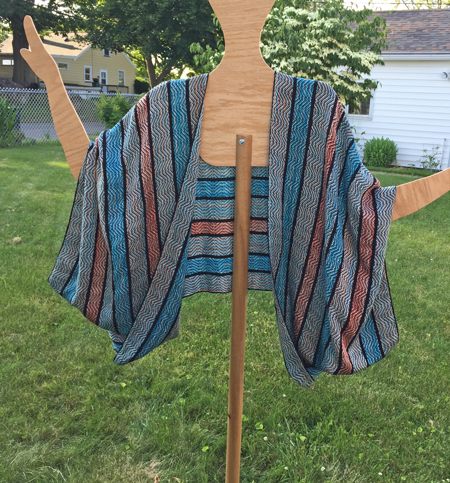 Then I used some 16/2 (or maybe even 20/2) rayon in a lovely peacock color. I tried tripling the weft but that was too much, so used it doubled. I also decided I needed more just plain shawls, no sewing involved.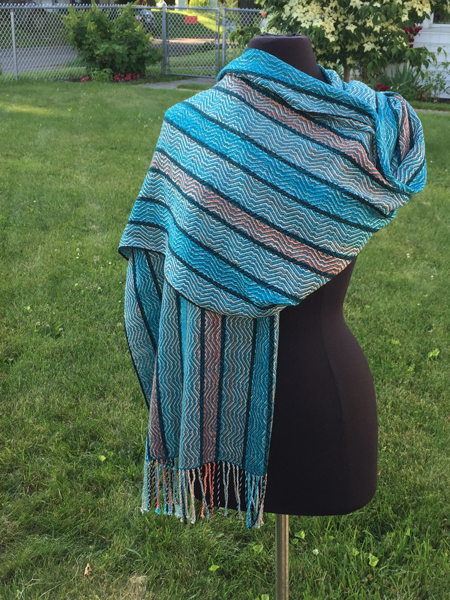 I decided to weave 2 shortish and wideish cowls with the remainder of the warp. I changed the tie up and treadling, and used that doubled peacock yarn for the first piece.
Then back to the black tencel for the last piece. I also decided for a closer shot so you can see more detail in this piece.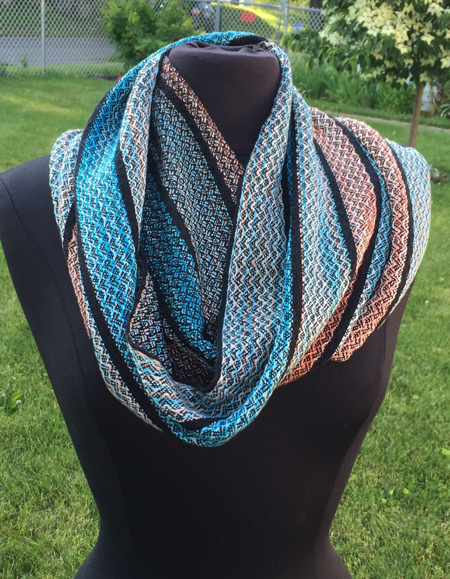 So I have a total of 7 finished pieces, and 3 more off the loom awaiting my finishing. That's why I decided to follow my wishes and put a warp for 8 more polka dot towels on the loom. This time in various blues. No sneak peeks!