The forecast was for lots of rain from Wednesday evening to Friday morning, so I wanted to get the lion's share of gardening done in advance. I didn't take many photos, but here are a few.
Half of my front garden. Weeding done, annuals planted, mulch laid.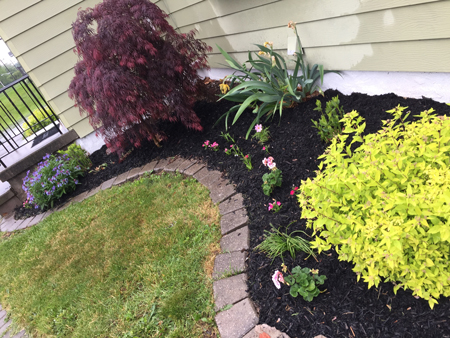 And the side garden. You can't see much, but the same work was done all the way down the line…weeding, annuals, mulching. I think about 60 feet of it.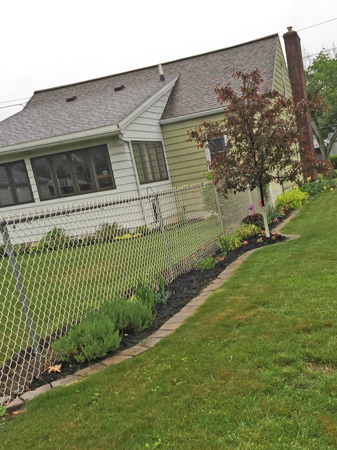 I also did the same work on about 30 feet of bed behind and next to the house.
I also improved the bed for and subsequently planted tomatoes with their companion marigolds and Carmen sweet peppers. Before the planting, Jack thought the mulch was the best thing ever. I must say I've never seen him do anything like this before…his back feet were pretty much straight up, and he was motionless for well over a minute.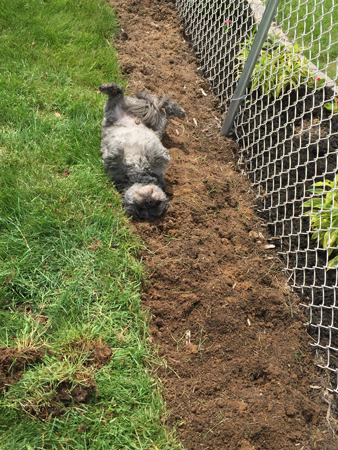 I re-worked the RALA logo and tried it out. The design is better still, but I didn't pull the weaving nearly tight enough. It's too wide, especially on the right half of the logo. I'm going to try again, and see how long it takes to complete one logo.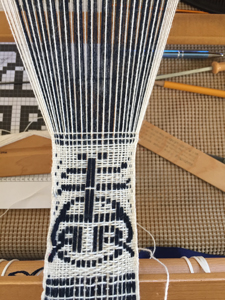 Today, in addition to groceries, pet food store, and other errands, I'm continuing to work on re-labeling all my previously woven work and labeling the new work. I've spent at least 3 hours already, and probably that much more to go. The good news is that this is a good opportunity for me to see just what I have in my inventory for the show season.