I didn't take any process shots of the transparency weaving, but I can talk about it a bit. A woven transparency is a fabric that has a very loosely woven linen background with a patterned inlay. That inlay can be done with color in a very representational style, such as this from handweaver.us:
Or a more abstract design that's almost white on white. (I'd credit the weaver if I knew who it was.)
I knew I wanted to make a graphic, stylized rose, so I found something online that I thought might work, printed it, and brought it to the workshop with me.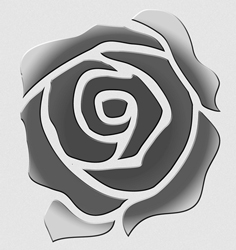 Mary McMahon, the teacher, assured me I could do this. This was a 2-day workshop, and at the end of day 1 I was sure that either I couldn't do it, or it would take untold hours that I didn't have.
Sometime overnight I realized that my thinking wasn't right. Much of my difficulty came from the restrictions inherent in the loom – I was using my rigid heddle loom. This led to 3 problems:
–I could not beat the linen firmly enough. The goal is to have the openings be little squares, but mine were rectangles. I had to just accept this fact, and realize that it was just a sample, and the purpose of the class was to learn the process, not to complete something.
–I had to use thicker linen yarn for the background fabric than the other students, so that the inlay yarns did not have the same impact on my sample as it did on as theirs. I could ameliorate the situation during the workshop by using thicker yarns for my inlays.
–Because of the rectangles and the thicker linen, I couldn't achieve the curves I was looking for. But if I enlarged my design on a copier, I could try again and get closer to my desired end.
So on day 2 I sat down with these insights and was much happier with my attempts. I didn't bring home enough linen to finish weaving all the length I had, but that's ok, because I knew I'd not be able to achieve my intended sample on this loom anyway. But I wove a bit more, cut it off the loom, and hung it in a window in my studio. If you stand back and squint, you may be able to see part of the rose in the middle of the weaving.

As soon as I have time (please control your laughter) I will order some linen, set it up on my counterbalance loom, and try again.
Then there's the the weaving fail. I often bring that little rigid heddle loom to shows with me to demonstrate weaving. I thought it was time to mix it up a bit, so I rented a triangle loom from the Weavers' Guild. I'd never used one before, but figured I'd try it at home and then rent it for a show or two.
When I picked the loom up, I was quite pleased at how much it collapsed. It would be a simple matter to add it to a van for a show.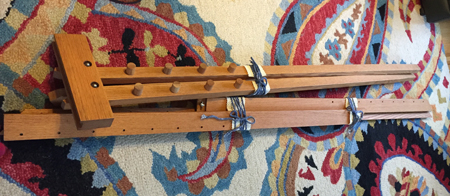 Then I set it up. Ay yi yi! It's HUGE!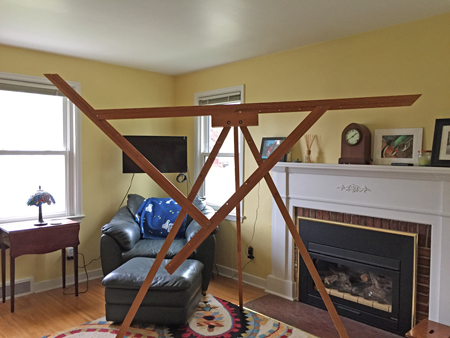 So I watched a few YouTube videos and started weaving. After a few false starts I got the hang of it and was weaving without too much difficulty.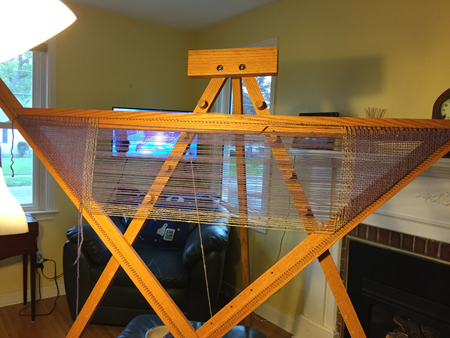 But I was clear that this would most definitely not come to shows with me. In addition to the size, it was a slower process than I'd anticipated. Since most shows are outdoors, I couldn't count on decent enough weather long enough to weave off a triangle, and I couldn't collapse the loom till the triangle was finished.
Anyway, I finished the weaving in my living room.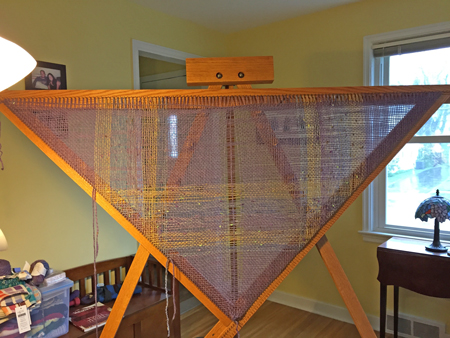 See that wonky space in the center of the loom? And the other wonky space at the top? I was hopeful that these would disappear in the wet finishing, that the fibers would shift to take up the space equally.
Wrong!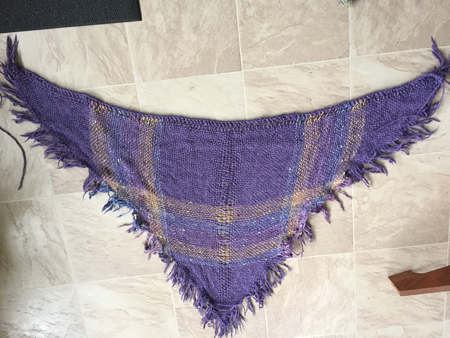 It's a mess and I hate it. Neither of the spacing problems were resolved, or even improved. I don't anticipate ever weaving on a triangle loom again. The good news is I bought the yarn at a local thrift store, so I had a minimal investment in materials. I do feel bad that I've wasted a lovely purple alpaca yarn, but c'est la vie. It was a good learning experience.