Jack and I have been through a lot in the last month. There were digestive issues and behavioral issues. Some of the digestive issues were caused by the behavioral issues. And maybe vice versa, too. Suffice it to say that Jack was most definitely in the figurative dog house. I was at my wits end, and was seriously thinking I'd have to return him to the rescue agency, knowing that this would be a very bad outcome for both of us.
Finally my thinking went to, "What would Bob say to do?" (Bob is the professional dog trainer who leads our classes.) Once I asked myself that question, I knew the answer. He'd say, "Don't give Jack the opportunity to repeat the behavior." I know he advocates tethering puppies (and misbehaving dogs) to the owner so that good behavior can be immediately rewarded and unwanted behavior can be immediately corrected. That's where we started. Plus I picked up an old crate from my daughter; Jack would be crated at night and any time I was out of the house. I wasn't happy about these restrictions, but had to try.
I was quite surprised that Jack took to the crate immediately. The crate was in my as-yet-unfilled corner of the kitchen, and if I was in the room cooking, Jack chose to sit in the crate. I can only assume that he'd been crated at some prior point in his life.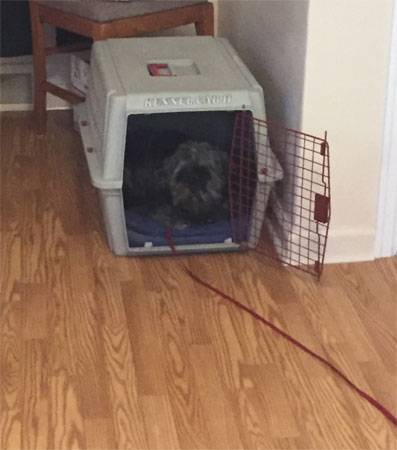 It didn't take long for me to get rid of the leash in the house. It was too much of a pain in the butt, and I figured I'd end up tripping and falling or strangling Jack. My house has a door on every room but the living room, and I could use a baby gate to keep him in there. Shutting a door is much easier than indoor leashes. Since he mostly wants to be where I am anyway, he follows me around when I move from room to room, so that was easy.
I also started even more intensive training. "Drop it" and "leave it" were essential commands for Jack to learn, even though they weren't taught in our puppy class. In response to a question I asked, Bob mentioned that he learned how to train "leave it" from a dog trainer named Sarah Wilson. I looked her up and read everything I could find online. I didn't buy her books; I needed immediate help.
While I appreciated everything she had to say, there were a few things that really resonated with me (my paraphrasing).
You don't get to choose what your dog needs. Jack needed me to change my behavior and help him change his. I had to try everything I could think of, all the while exuding calmness and patience. I would never know what happened in his prior life, so couldn't begin to figure out why he was behaving in ways that were so unacceptable. I could only make some assumptions. One of them was that it was only after he'd been with me for 5 months that he relaxed enough to show some of these terrible behaviors. Another was there it was entirely possible, perhaps probable, that he had some underlying physical health issues that hadn't yet been diagnosed or treated that exacerbated the problem.
Think of a crate like a child's car seat.  It's not restrictive, it's a safety measure.  If the parent's attitude is calm and no-nonsense, the child's will be, too.  The same is true of the dog crate.  Just like the car seat keeps the child safe, the crate keeps the dog safe when you can't watch him.  Although Jack's certainly not a puppy, I needed to protect him from himself or something very bad would happen.
People tend to get the dog that they need to teach them (the people) something. I am learning more patience, more tolerance, and more things about dog training and dog behavior than ever. Open heart & loving kindness – not just the words but the reality, at least to a greater extent than previous.
Jack's still crated at night. I think we'll do that for a long time. Maybe forever. After 3 weeks I no longer close the doors to keep in the same room as me. He usually chooses to be with me, but now can go get a drink of water or one of his toys if he wants it. When I forgot that I had committed to donating blood today and realized at the time of my appointment, I ran out of the house and left Jack out of the crate. I was gone about 90 minutes and it was fine. I won't do this all the time, but will try it occasionally when I won't be gone for long.
One of the changes I made was to give him a bit more food and lots more treats as positive reinforcements. When we're going for a walk I don't leave the house without some in my pocket, and Jack knows it. He wears an invisible sign around his neck, "Will work for food. Will work harder for better food." I think he was pretty much always hungry, and as a person who's struggled with my weight all of my adult life, I know what that feels like. Since I'm betting he had years of food insufficiency and knew what real hunger was (unlike my years of self-imposed dieting), Jack would do what he needed to not to go back to hungry, even when it didn't serve him well.
Because there were digestive issues I researched and learned that I could buy Fortiflora, a doggie probiotic, on Amazon. This is exactly the same priobiotic I got from my vet after Jack's first visit to her, but 40% less. 40%! I also ordered the fish oil supplement – same as the vet's – for about 20% less. Jack needs to take the fish oil supplement all the time due to his propensity for joint issues, and I think I'll keep him on the probiotic for a while, too. In my opinion he's still not 100% well. I'm also seriously considering taking Reiki training so I can use that on Jack, too.
For the past 2 weeks Jack's behavior is 100% acceptable, both in the house and on the leash. We've rebuilt trust in each other, and this good period is something we can build on. Neither of us will forget this time when we encounter a future bump in the road.
In the midst of all the troubles, Jack had the opportunity to meet my new grandson. He can't get enough of this little baby!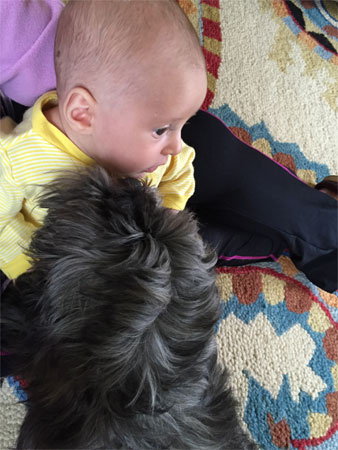 Despite how shy he is around people, he is so interested in the tiny human that he can't leave him alone. In fact, when I put the baby on my bed for his nap, Jack, who has never tried to jump on any of my furniture with his stubby legs, goes all around the bed trying to jump up and see the boy. It's rather funny 'cuz he can't get himself more than a few inches off the ground, but he tries repeatedly.
In typical Jack fashion, he is very gentle. He sniffs and sniffs, and occasionally licks, but mostly just wants to be near the little guy. I make it a point to change his diaper on the floor to give Jack more up close time. It's all good. 🙂