After thinking about it for literally 3 months, on Friday I bit the bullet and put scissors to my handwoven fabric for the first time. I planned the warp in November and wove it in December, and then the fabric sat on my dresser waiting for me to get the nerve. And find a pattern that I liked. But mostly get the nerve. Friday was the day. No more procrastination.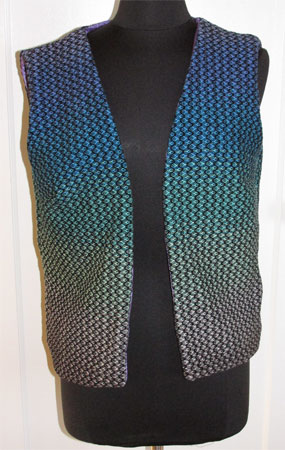 It's not perfect, but it's good enough for my first attempt. The biggest problem is the bulk in the seams. I couldn't trim and clip the seams because I was too fearful of the handwoven fabric fraying if I did. Next time – and there will be a next time because I have more fabric from this warp with a different weft and weave – I'll first research how others handle this problem.
I'm going to buy a black frog closure for the center front. In this vest the warp is unmercerized cotton, the weft is rayon chenille. I lined the vest with violet polyester satin. Very slippery and not so easy to handle, but I love the color, more vibrant than it appears in the photo.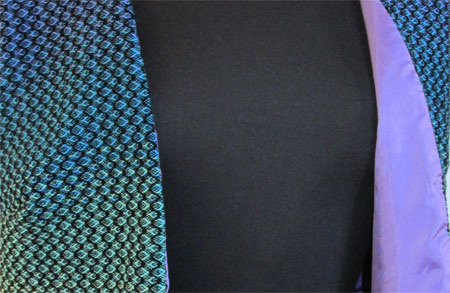 Never one to let the grass grow under my feet, while I was waiting for the needed tube of baby blue yarn to arrive I put another of my handpainted warps on the loom. I liked the twill blocks so well in the silk that I used a similar design for the rayon.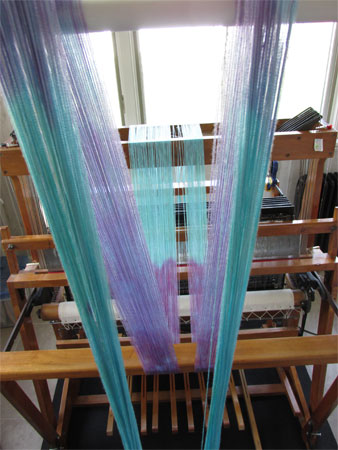 I used a different weft color on the each of the 3 scarves. Now that they're off the loom, the first one is far and away my favorite. I'll show you all of them after they're fringed and wet finished. That'll be a bit away; the needed yarn arrived today so I'll start on the baby wrap warp tomorrow.