When I bought my house I knew there were only a few big things that needed to be done. One was to remove a very large Norway maple from the back yard. I love trees, especially big, old trees. I'm a tree planter, not a tree cutter. But this Norway, although healthy enough, took my entire back yard, had to be trimmed almost annually to keep it off the roof of the house and garage and wires, and would be a REAL problem if damaged in a storm. Plus my 'lawn' was mostly roots and ruts. I knew I'd have to remove it as soon as possible or it would get emotionally more difficult to do so.
Here's a shot of my house as of 1PM on Friday. You can see 3 yews in front and that maple out back.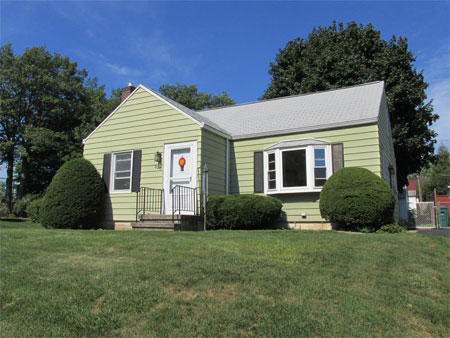 The removal crew started work at about 1:15. They were amazing to watch. 4 men with a bunch of equipment working together like a well-oiled machine.
First, go up in the tree and hook up heavy duty straps. (The red arrow points to the man in the tree.)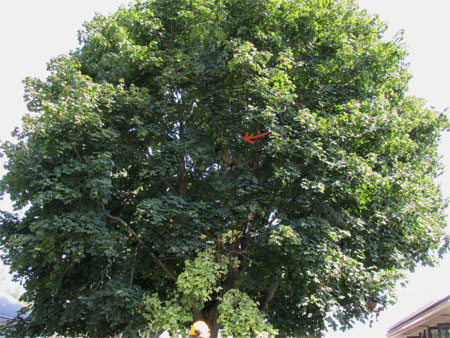 Come down and make a cut with a beefy chain saw.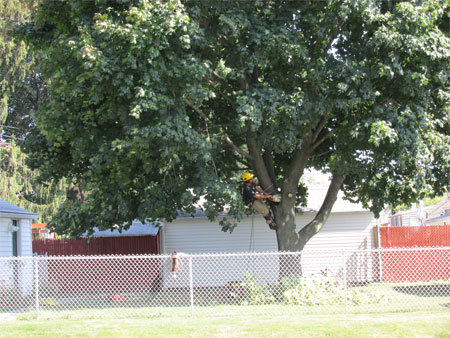 Then a huge crane picks that third of the tree up and lifts it over my fence to the middle of the road, where it's quickly chewed up by a chipper.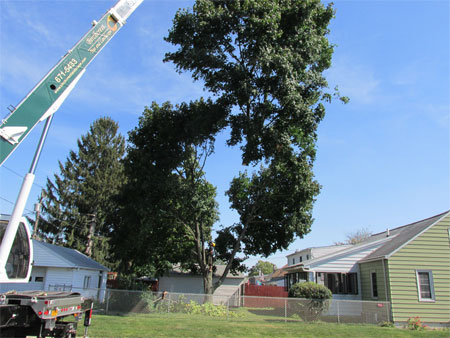 Here's the second cut.

And that section up in the air.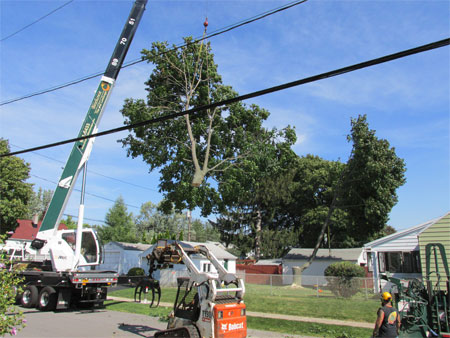 After a third cut and lift, all that's left is the stump.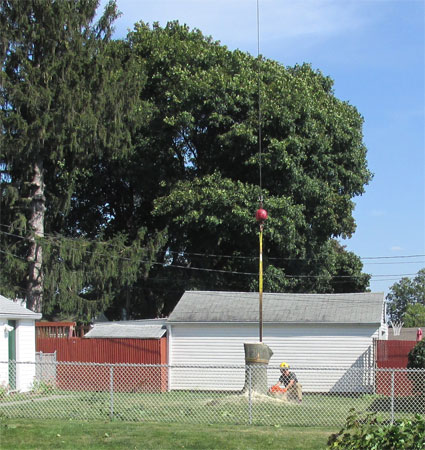 I was blown away by the fact that it took a grand total of 4 saw cuts to get that entire tree out of my yard. And by the fact that they CHIPPED IT ALL!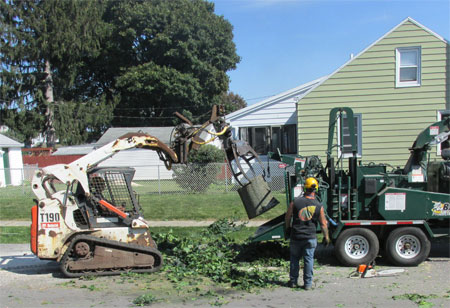 I actually found that chipping to be sad. I know my old neighbors would have loved to have that maple for firewood. But they couldn't come up to get it, and even if they could, transporting firewood across county lines is (I think still) illegal due to the Emerald Ash Borer. But still….what a waste.
Here's another indication of the size of this tree; the stump is about 24″ in diameter.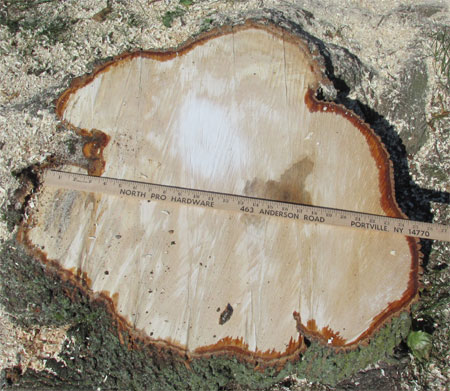 Anyway, after removing the tree in record time, they cut down & removed my big, old yews in about 5 minutes. Literally. I got a real kick out of the fact that they used one of those yews to sweep the street from leaf and branch debris.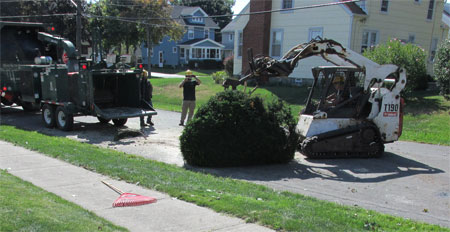 The view of the front of my house looks different enough – no yews and no maple very visible over the roof.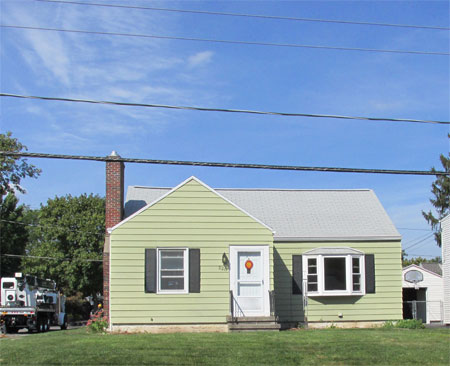 But look how much different my backyard is!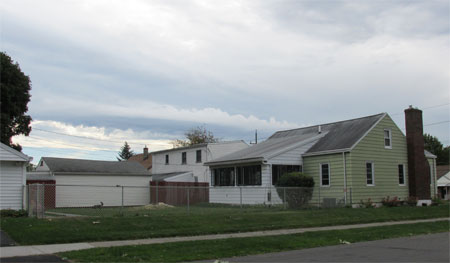 The increased amount of light in my studio, and even in the rooms next to it (bathroom and office) is quite notable. From starting work to packing up their equipment took — are you ready — 90 minutes! Totally amazing!
Next step: crew #2 comes to grind out the stumps and put topsoil and grass seed in the backyard. Then the happiest part: crew #3 comes to do the planting. I took out 1 tree and 3 shrubs and will be planting 3 trees and 4 shrubs. Granted, nothing that's going in will be as big as what I took out, but it will all be good – for my house, my brain, and the earth. Plus I'll be getting new garden areas to plant with perennials and annuals in the spring.