Inspiration for NS's custom baby wrap came from nature – a rainbow and birds. I measured out the warp for the rainbow section first.
Then I started measuring the color bars that will be the majority of this wrap.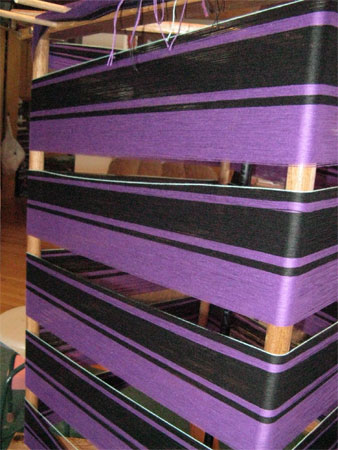 I was quite curious as to how this would all come together on the loom.
I know that the iridescence of the bird was important to NS, and that what I wove would have to be representative, not really iridescent itself. While iridescence can be achieved with shiny yarns (not suitable for a baby wrap) and opposites on the color wheel, it's not easily (at all?) achievable with the matte finish of the unmercerized cotton and a weft color that has to work with the rainbow section, too. I was hoping that beyond the computer image my weaving software could produce, the actual weaving itself would come close to achieving this goal.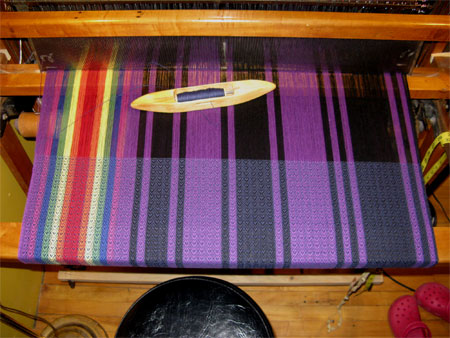 I know that this photo can't do it justice. You just have to trust me when I tell you that in real life, the interplay of the black in the warp and the marine in the weft does, in fact, create almost iridescence. I'm really happy with the result, and hope N is, too.
I'm about 1/2 way through the weaving of this wrap, and will be interested to see how the colors change with that pale green weft.