This afternoon I did the hard press on EJs wraps, then sewed in the required labels. The weather was perfect – sunny and warm after MONTHS of extreme cold. So I took the wraps outside to photograph them in natural light before I bundled them off to the post office.
Here are the wraps rolled.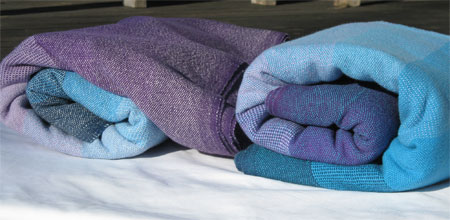 Despite the fact that I inadvertently rolled them in opposite directions, I think the colors speak well. On the left is the wrap with the natural weft, on the right the wrap with the peacock weft. I am in love with that peacock wrap! The colors are so rich.
To fully show you the difference I laid them out flat.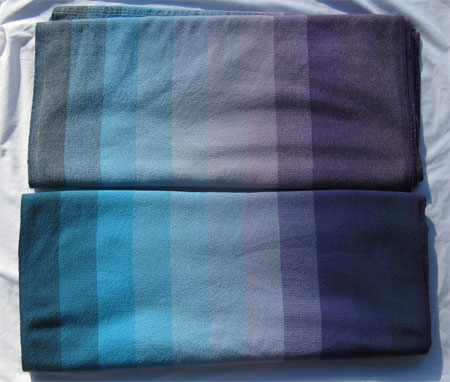 The natural weft on top, the peacock weft on the bottom. YUM!
As I was putting the wraps in the box, the UPS man showed up with my next yarn order, for the next batch of baby wraps.
First up is NS and her friend.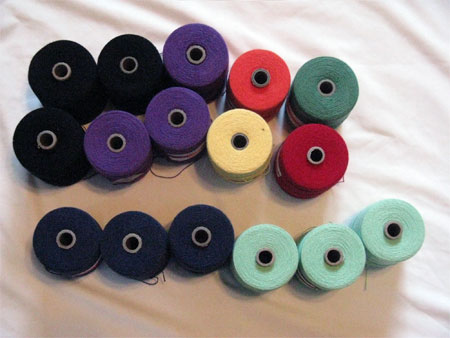 The top colors – black, pale mauve, cherry, dark orange, dark yellow, pine, (and the royal blue I forgot to get in the photo) are the warp colors. One wrap will be woven with marine, the other with pale green. They will look markedly different.
I am not going to start measuring the warp tonight – I'm going to take a break and read for a while. Tomorrow's another day. After I take my garbage, recyclables, and reusables tot he transfer station, I'll put my warping mill back into service.