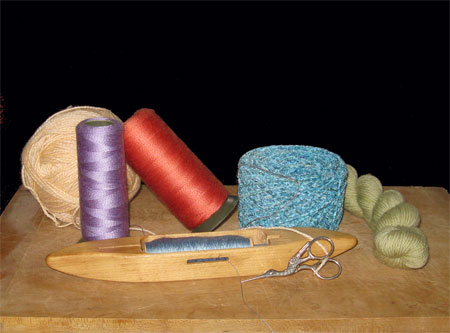 Initially I was not excited by Carmi's photographic challenge this week – still life. After all, my kitchen table is ALWAYS a mess, and since it's an old-fashioned red formica, it's not at all conducive to most photographs. Then while I was weaving this morning, I got an "aha" flash. Set it up on a cutting board, and do it with the tools of my weaving trade!
The yarns in this photo are merino wool (pale yellow and soft sage green, both hand dyed with all-natural dyes), cashmere-silk (orange and lavender on cones), and rayon chenille (hand painted blue). Â The wooden tool is a boat shuttle, inside it is a bobbin filled with the light blue cashmere-silk yarn I'm using this morning.
Your turn: Â Play along with Carmi's challenge, or tell me what's on your table. Â Or what you WISH were on your table.