I'm not 100% recovered from my head cold yet, but all the remedies from my last post, plus a few I forgot to mention there, have made definite headway. I don't need naps anymore, although I do still sound somewhat like the teacher in the Charlie Brown movies.
In between cold treatments I did manage to finish the handwoven table linens. I've wet finished them, bought matching thread, and hemmed the napkins.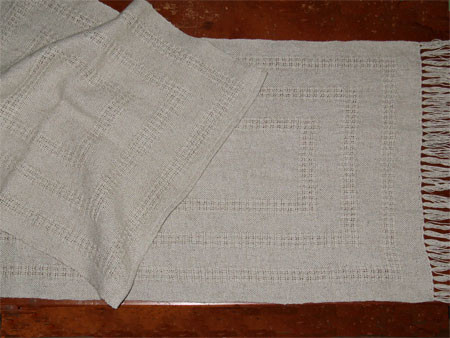 I couldn't decide whether I should leave the plain fringe on the table runner, do some fancy knotting of that fringe, or hem it. My friends in the Southern Tier Fiber Arts Guild helpfully suggested that machine laundering does a number on fringe, and since I plan to sell this set, I'd better try out some machine washings before final decision time. I haven't yet done that, but plan to wash them in the machine in my version of a lingerie bag – a tied pillowcase.
Meantime, I've been plugging away at my year-end inventory. Pretty quick & easy for the weaving. Amazingly tedious & time consuming for the jewelry.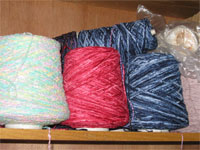 –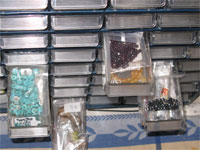 Sometimes makes me wonder – which is worse: actually paying the tax or preparing the needed info for the forms? Wadda you think?