In my world, the good news is often the bad news and vice versa. It all depends on perspective, right?
The good news is that my second (and last) show of the summer was great, as was the first. I sold lots of items, making the summer rewarding, both financially and emotionally. That, however, is also the bad news, as it means I have to work very hard again this year. To simply make up for the things I sold at those two shows, I once again have to weave at least 6 good pieces per month for the next 10 months. Plus somewhere stick in weaving 2 dozen towels and a similar number of bookmarks, as those aren't counted in the above numbers.
Fortunately, I don't have another show for a few months, so can breathe a bit, even though I can't stop weaving.
FYI, included in my sales this past weekend were that baby-to-mobi wrap, the black & white shawl, and both the purple weft and azure weft scarves from the last post. No surprise to me on any of them.
I do like to demonstrate at shows when possible, and learned my lesson with the sock yarn warp on my rigid heddle loom in July. So this time I tried something else new-to-me-on-the-RH loom. I consulted with a friend and the internet, and chose warp rep for placemats. I used doubled 8/4 cotton rug warp for my warp, using 16/2 cotton for my thin weft and 4 strands of Sugar and Cream cotton for the thick weft. Here's how it looked on the loom.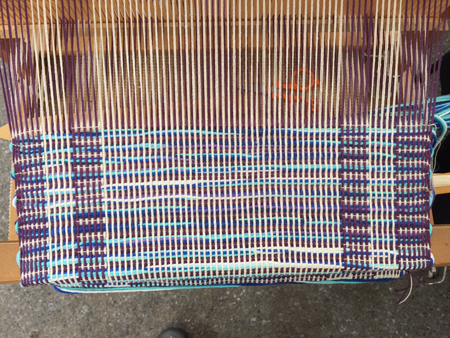 I finished the weaving at home, and after cutting them off the loom, immediately saw a fairly large Oops! Apparently I was distracted and didn't pay sufficient attention to how many inches I'd woven rep weave for the first (shorter) placemat – which is actually an appropriate size for a placemat. The second is a solid 6″ longer.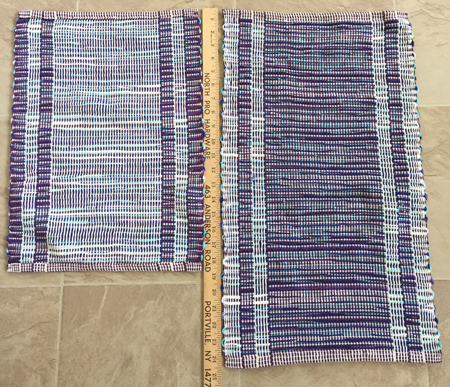 Oh well, I said, so it's not a set. I wet finished them yesterday, and here they are after that process.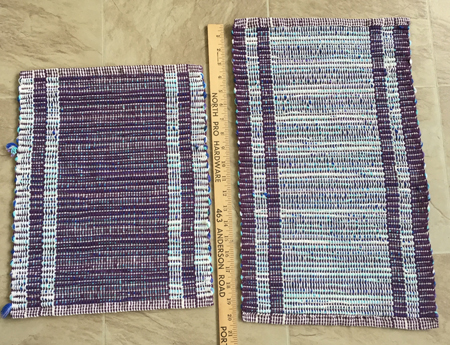 I was a bit surprised to see that the long one had lost a full 4″ (17%) of it's length. Anyway, I will use these myself but won't sell them. They are too 'soft', too wimpy. You can see that the weft isn't tied in well in a few places on the shorter piece; they won't hold up well at all. Another rigid heddle lesson learned.
So today I had to get back to the Macomber. Before I started tensioning the warp, I decided to step on the treadles and make sure the shafts were lifting well. Lo and behold, I had 2 shafts, #6 & #7, that were fine on the left side of the warp but were substantially low on the right side. So it wasn't really the warp from hell, but a loom issue.
I spent a bunch of time looking at various parts of the loom trying to determine what was wrong and finally decided I couldn't figure it out the cause of the problem. Instead I simply needed to figure out a solution. This morning I walked to the hardware store with one of the S hooks from the loom, and bought new S hooks that are 1/4″ shorter. Instead of 1″ hooks, I bought 3/4″ hooks. I put them on the shafts 6 & 7 and tried stepping on treadles again. It looked good to my (crooked-blind) eyes.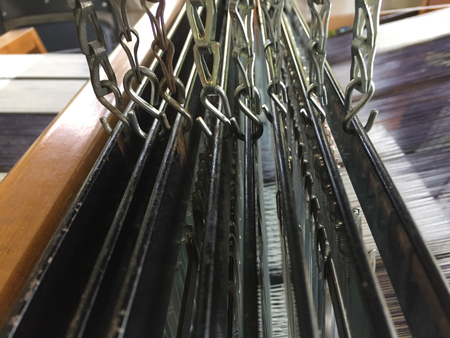 So I tied up the loom, and gave it a go. Yay! This warp is now weaving beautifully. I should be able whip out these 2 black and white hand painted shawls with ease and move forward.