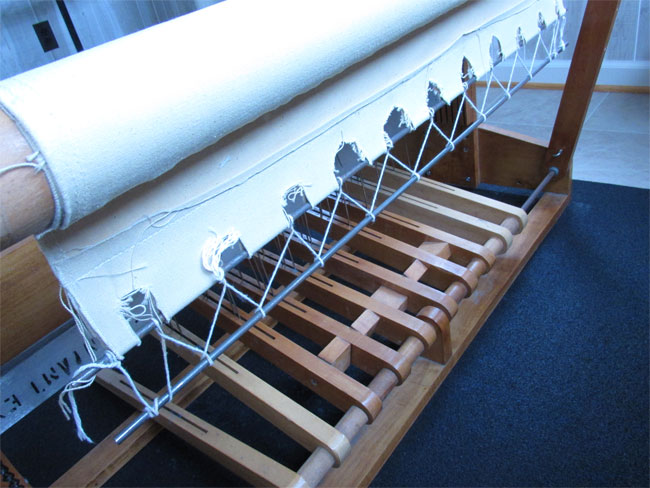 An apron isn't just something you wear when you cook. In the weaving world, an apron is a piece of sturdy cloth that's important to the functioning of your loom. A month ago I showed you the worn out, ripped apron on my Macomber. Instead of buying fabric and making new aprons, I took Theresa's advice and ordered new aprons for both my Mac and my little counterbalance loom. They came in a few days ago, and today I made the time to install them. Sarah, a Macomber saleswoman, was helpful in giving me some phone advice.
Like most tasks, it starts with a bit of demo…removing the old apron.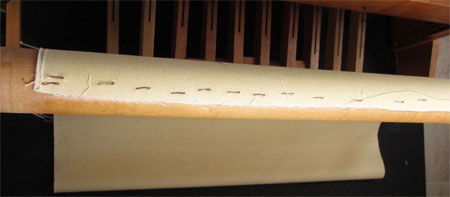 Once I got the old apron off I could see the pencil line that someone at the Macomber factory drew almost 60 years ago for straight apron placement.

In addition to the aprons, Macomber sent me a whole bunch of staples…the kind you hammer in place…to install them with. I'm a bit, um, hammer impaired. I've always had a difficult time hammering a nail straight. So with these fat, little staples it was a challenge for sure. This is not what you want to happen.

I ruined at least 10 staples on that first apron and beam. And I had 3 more aprons and beams to go. The instructions suggested I remove the beams to make the task easier, but I wasn't prepared to do that for the back beam…it seemed a bit of a big deal.
Taking off the front beam is really easy so I did that. And installing the apron was MUCH easier. I ruined only 3 staples. I think I ruined a total of 3 staples on both beams of my counterbalance.
After the apron cloths were in place I inserted the first apron rod in the hem. Then I inserted the pre-cut waxed strings (not sure if they're cotton or linen) into the pre-made holes in the apron.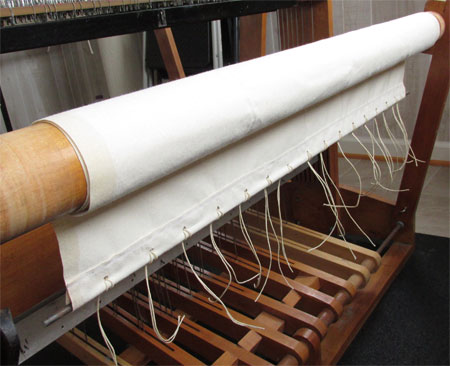 Finally I tied those strings onto the 2nd apron rod. I spent a bunch of time trying to get the tension the same across the width of the rod. I'm used to a continuous string and it'll take a bit for me to be as comfortable with the individual strings.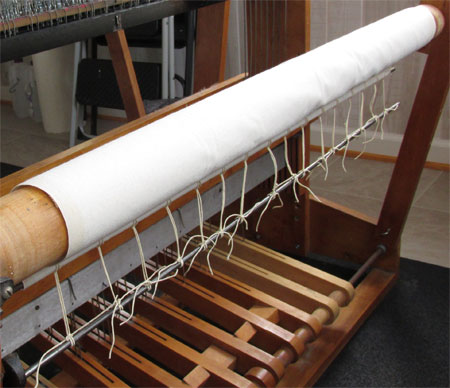 After I've used the new aprons a few times, making any needed adjustments and/or tightening strings, I'll trim off the ends of the knots so they're not clumsy and in my way. But not yet.
I repeated this entire process with the front beam on the Mac and both the beams on the counterbalance.
Looking forward to my first use. Very soon, I think.