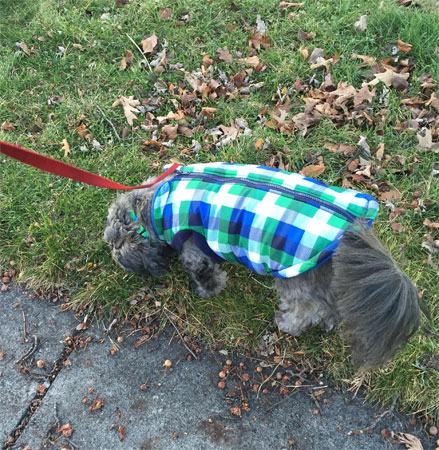 I'll be clear…I never wanted a dog that needed clothes. Red, my last little guy, did need boots when the temps dropped below about 15 degrees F, but his feet were the only thing that got cold. In fact, he'd usually sleep right by the door regardless of the outside temperature.
Jack? Not so much. When the sun is streaming into my living room, he's there, sleeping in it. And after his haircut I had to sort of drag him outside. "Uh uh. I don't need to go out. I'm good waiting in here for you." That's what he was saying.
So I broke down and got him a coat. Actually, I got 2. This one is medium weight and the other one (which he hasn't seen yet…it's a Christmas present) is warmer. He definitely likes it. And doesn't he look spiffy in it?
Here's my rule of thumb, which seems to be working: if I need to wear my hat or my scarf, Jack needs his jacket. Probably when I need to wear both he should wear the warmer one, but like I said, he hasn't seen it yet. (At least not with his eye open. I did try it on him to make sure it fit, but I made him close his eye to not ruin the surprise. LOL!)
Looks aside, here's the news. The other day I needed to walk to the bank. Although it wasn't cold out and I had on neither hat nor scarf, we had gotten rained on that morning and those heavy ears of his were still wet. I didn't want him balking at the walk, so tossed his jacket in the dryer (it was still wet, too), put it on him nice and warm, and off we went.
I meant to put some doggie treats in my pocket, figuring he might need them when we went into the ATM lobby – as far as I planned to go. When I was about half way there I realized I'd forgotten to load my pocket, and wasn't going to turn around.
When we got to the lobby, no one was in it, so we were good to go. As I was conducting my transaction a suited man from the bank came out with a standard dry dog biscuit in his hand and asked if he could give Jack a treat. "Sure, you can try."
Bank dude squatted down and held out the treat, saying something pleasant to Jack. Jack stretched out his neck to gently take the biscuit and ate it.
As my daughter said when I told her, "He's such a surprising little weirdo." I concur. But I also know for a fact that he has made lots of progress since we went to puppy class. He still has a long way to go, but his confidence/trust level has risen significantly. At least when he's leashed. And when it's not my son.
One step at a time, little man. One step at a time.