Laura Fry recently blogged about how her hands forget exactly how to move when she's been away from her loom for too long — which can be just a few days, really. Since Laura's one of my weaving idols, I guess I shouldn't feel too bad when I make a bonehead mistake.
Again.
I do take some comfort in the fact that I'm not repeatedly making the same bonehead mistake.
This time I did all my usual math to calculate how much warp to measure for Summer's custom ordered baby blankets. And then I apparently completely ignored that paper.
I measured 540 ends too many. But I measured all 1,280 ends too short. Summer ordered 2 blankets. I have enough warp on the loom to weave one, then I'll have to measure out another 200 ends and rewarp my loom. What a colossal waste of time.
Nothing I can do about it except learn from my mistake. I've ordered more of the cotton to make sure I don't run out in the middle of blanket #2, which I think would be completely possible given my screw ups.
Anyway, blanket #1 is working up quite nicely.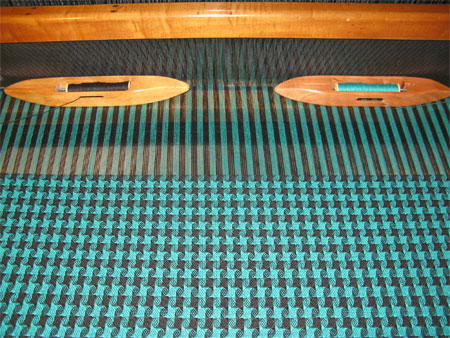 Summer chose black and aquamarine woven in a pinwheel pattern. I had to work at the beginning of the warp to get my beat right so that the pattern's square — you can see that it's too long at the beginning of this photo. It's good now. The colors remind me of a baby blanket I wove last year in cotton flannel.
I'll measure how much I need for blanket #1 and then measure the length left on the loom, but I'm pretty sure it won't be close to enough.
Since I had to order more yarn for Summer's second blanket, I figured I might as well order enough for the next few baby wraps at the same time. I ended up ordering 61 cones of cotton!
Happy Thanksgiving – and/or Thanksgivukkah — to everyone!