I got a special order for a baby blanket. From a grandma. I asked questions about colors, fibers, sizes, and so forth, and grandma consulted with mom to make sure we'd get it right. The decision was cotton flannel in a custom dyed blend.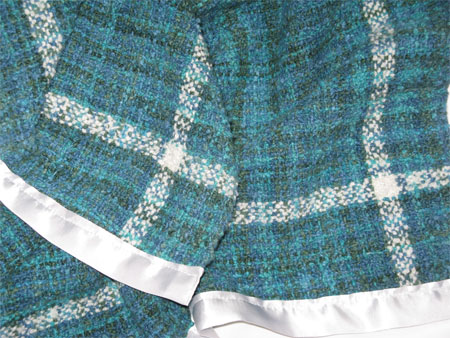 So of course I went to Tammy, my wizard with a dye pot. We decided to use a modification of one of her standard colorways, adding some green to make it more like what mom wanted. I also had Tammy send me a skein undyed, since mom wanted a touch of cream or white in the blanket.
After some difficulty finding the yarn, Tammy came through. The yarn arrived, and it was so scrumptious that I changed my plan. I had ordered enough to weave three baby blankets, but decided to change that to just the one special order baby blanket & a shawl. I sell way more shawls than baby blankets.
Actually, I wove the shawl first, because I knew I wanted the shawl warp to be all the hand painted yarn, but I needed some stripes of the undyed yarn in the baby blanket. Figured it was easier to change out the colored yarn for white for a short length at the end than the other way around.
So here's the shawl draped on Dolly.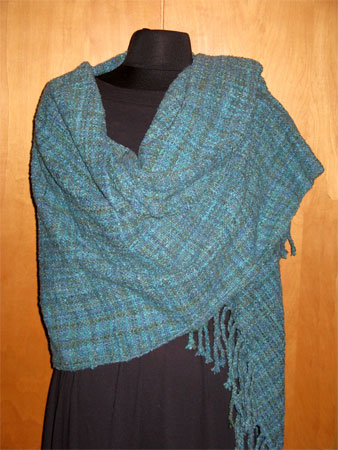 Doesn't that look like you could just melt into it?
With the close up you can see the yummy texture in the yarn.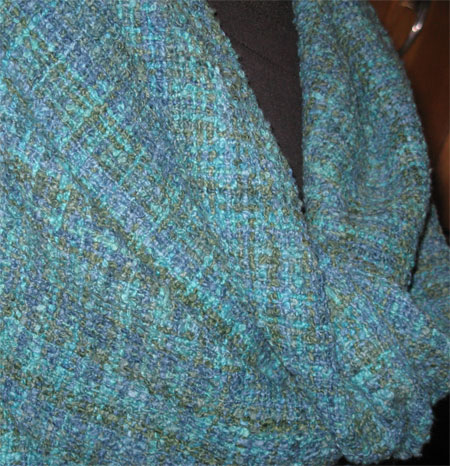 Although I am always amazed at how poorly I can predict what my customers will or won't like, I do think this shawl will sell at my next show. If not, I'm not worried – I have three more before the season is over, and it will sell at one of them.