I'm going to get this post written in less than 30 minutes, which is much quicker than usual. That's all the time I have, since I have to go pick up my grandson from school then. Usually I could finish the post when I got back home in an hour or so, but today I won't be coming back here. I'm on grandma duty until about 6pm tomorrow, when I'll hand them off to their other grandma so that mom and dad can have a much-needed weekend away to celebrate their recent anniversary.
So. Here goes. Let's start with a nice shot of my yard. Japanese dogwood on the left, (non-fragrant) red rose up against the garage center, climbing hydrangea on the right.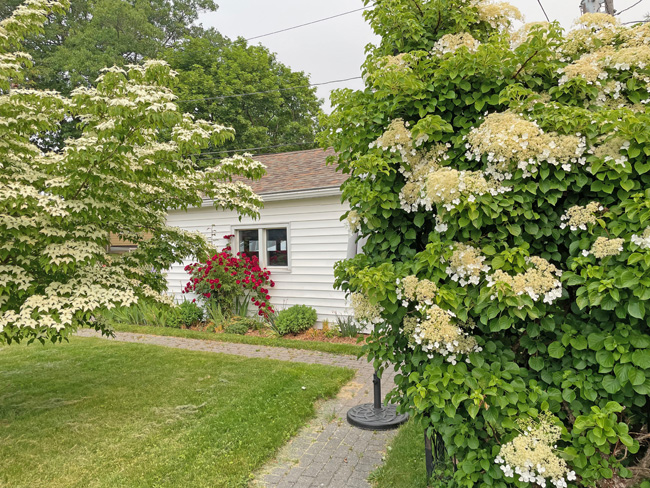 Have these 3 plants bloomed at the same time in prior years? Undoubtedly. But I never previously noticed. Or at least didn't take a photo of them in their glory.
A few days later I noticed that my dogwood was – unshapely. Others I saw on my morning walks were more well shaped, with a fuller crown. So I decided I should prune mine. This is not something I ever claimed to be good at, but my previous success with shrubs convinced me I could try. (And this after I'd really screwed up with what had been a lovely clematis in front of my garage. Sigh.)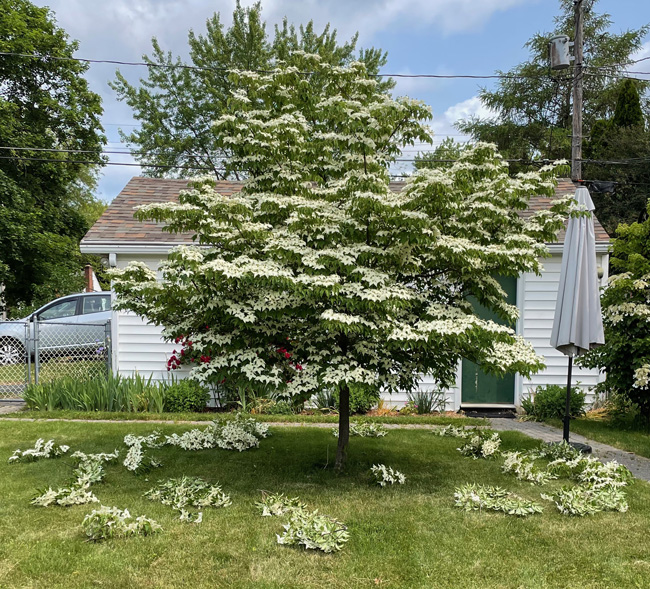 Although I found it a bit difficult to remove all those beautiful blooms, I knew if I didn't do it right now, I'd lose the initiative and it wouldn't get done this year. And I know that it can take a few years to see the beneficial of selective pruning. Wish my little tree well. I'm hoping that next year it will fill out a bit in the 'empty' spots and will lead to that fuller crown that's so beautiful. Then I can do a bit more shaping of the remaining leggy bits.
Like the rest of the northeast, here in Rochester, NY we had a few days of really horrible air for a few days as a result of the fires in Canada. I had to keep my windows closed and wear my N95 mask for my walks. Wednesday was the worst day by far. Here's what the sun looked like at 7:45 that morning.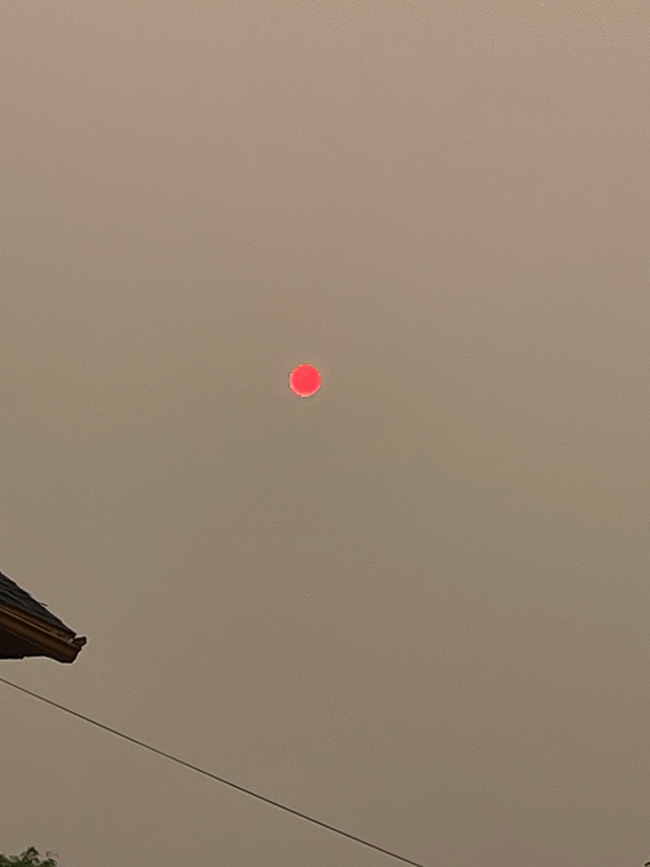 I did get my lovely Little Free Library registered. After a few days I got the official signage and posted it on the front.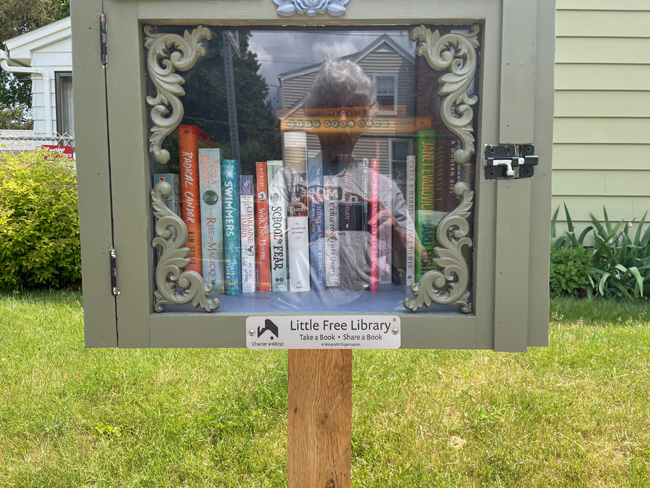 On my morning walk on Thursday I happened to see this little storefront that I hadn't seen before.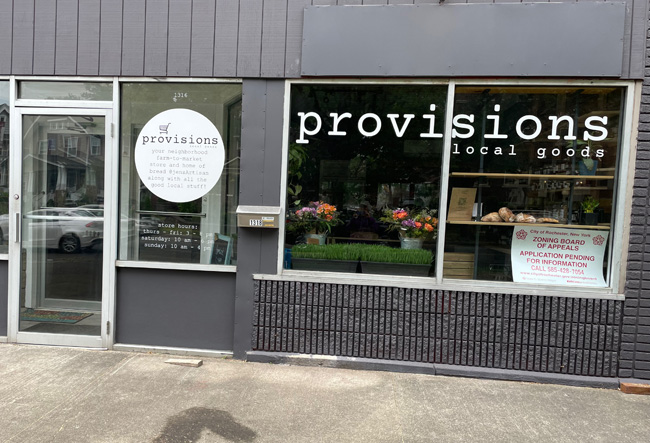 They weren't open then, so I walked back in the afternoon. It turned out it was only their 3rd day of being open, and I was impressed. In only 400 square feet they'd managed to nicely display many locally-made or grown items: artisanal sourdough bread, maple products, meats, eggs, cheese, produce, and more. I'm hoping this works out well for them. I bought a loaf of bread, some lettuce, a bunch of asparagus, and some cheese. I will have to stop back and give them more support.
I did get those hugs woven – you saw the 2 bouts on the warping mill in my last post. They need to be hemmed before I take any photos of them.
Remember all those empty spools and cones in the last post? I also got those towels woven, wet finished, hemmed and photographed. Then, for the final piece, I got them up in my Etsy shop. I wove 4 of them with a goose-eye treadling, 4 with an MW treadling. All 8 have different weft colors.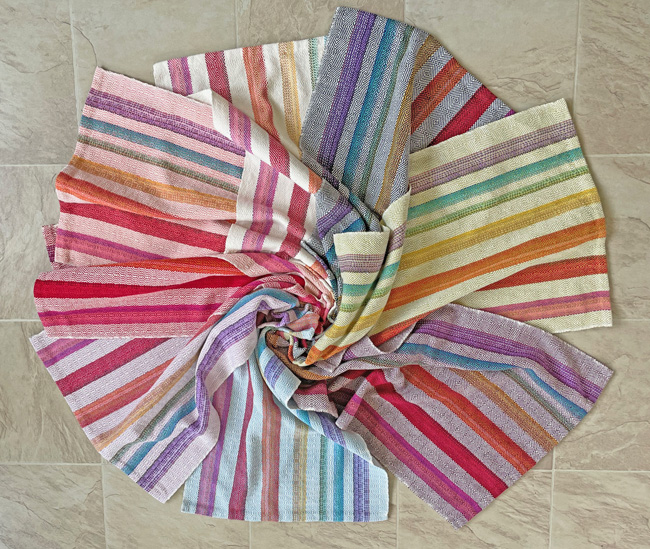 And now my time is up. Gotta run.
Closing shot – another red rose, likely the same variety as the one in the earlier photo. Both were here when I moved in. They look nice, but no fragrance at all. 🙁