I'm going to make it – 2 posts this month. Yippee!
Let's start with this.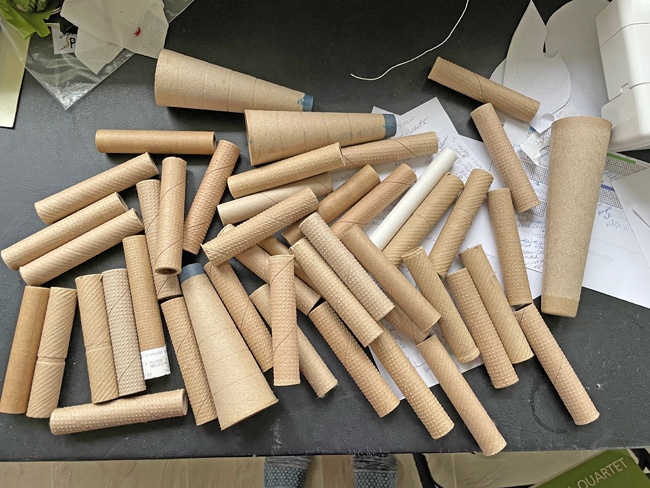 That's a LOT of empty spools and cones. They ALL had yarn on them a few weeks ago. Not much on any of them, but that's was the challenge – using up bits and pieces, odds and ends of yarn in a way that was visually pleasing – at least to me.
All I can say at this point is that this beautiful sight, along with a bunch of natural, undyed cotton, turned into 8 towels. They are now off the loom and in the queue for hemming, so no beauty shots yet. You'll just have to use your imagination about what they might look like.
Sticking with weaving for a bit, I'm sorry to say that I didn't get any of my handwoven hugs done in April. Nor in May, really. I don't think winding the bouts on May 26th and getting the loom threaded on the 29th can reasonably be counted as May hugs. They will be June hugs. It's the best I could do and I won't beat myself up about it. I am very happy with the early stages of this warp. Here is bout one on the warping mill. I love the way those colors work together.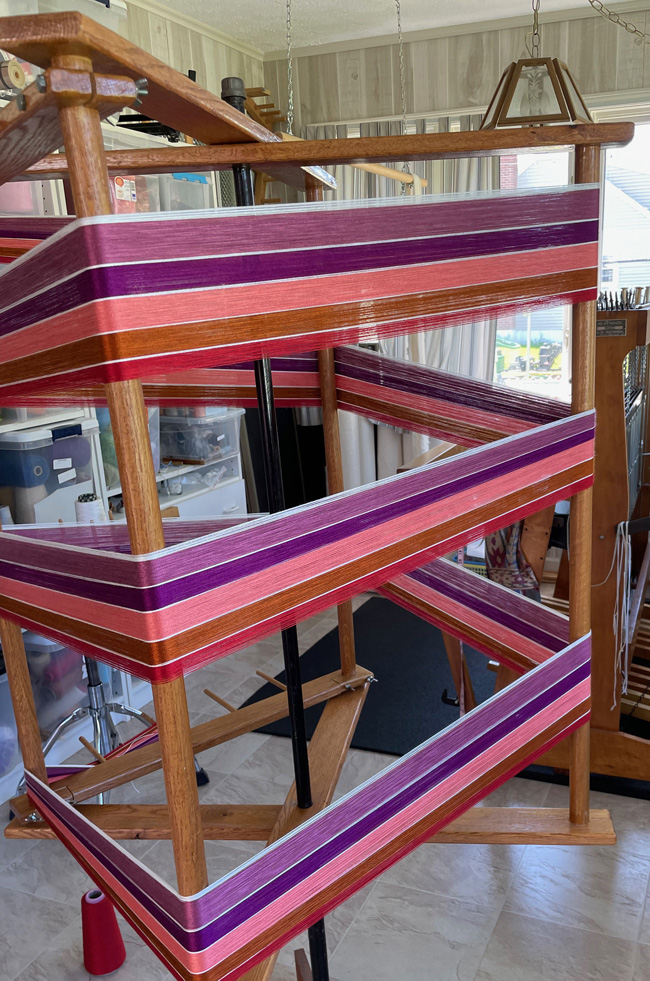 I also like the way the second bout looks on the mill. But I'm not positive about how these two will play together. The first bout is mostly tertiary colors in varying values, while the second is mostly primaries and secondaries.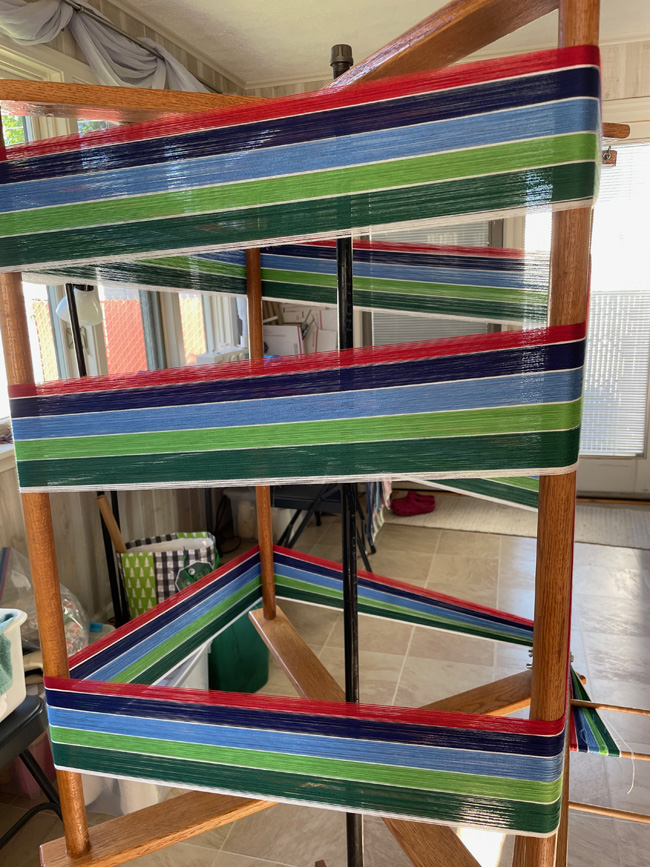 This is all Tencel or rayon. I'm crossing my fingers that the colors will play nicely together.
For a totally different type of weaving, a few friends and I decided to try our hands at branch weaving. We were inspired by seeing some images of Kaci Smith's work and started collecting suitable branches. They had to be an appropriate size, with a V that was neither too narrow nor too wide, and be very solid – no flexing when squeezed so that they'd stand up to a tight warp. Some testing was required and I ended up cutting off my first two attempts. Then finally we got together and wove. Here's my 4th attempt (didn't take a photo of the first two trials, or even my 3rd which is nice.)
I have ideas for another but haven't had time to actually do it.
What else have I been up to? There's been plenty of weeding and mulching and some planting of flowers and veggies. Then there's this: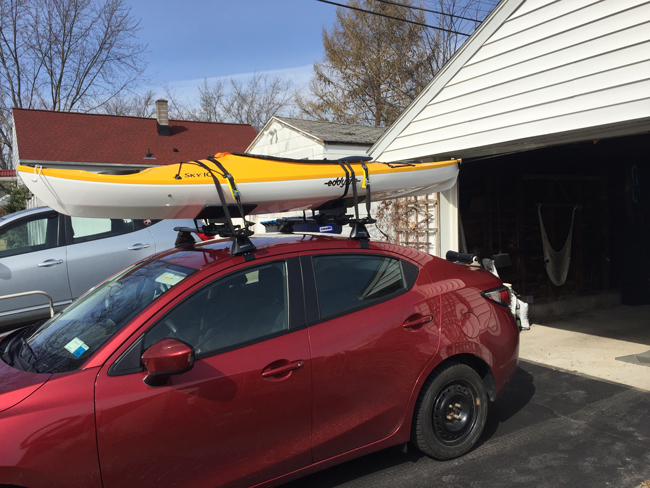 I've made it out onto the water twice. 🙂 The first time was with the Genesee Valley paddling segment of the Adirondack Mountain Club. It was COLD that day – mid-50s when we put our boats into the creek, only low 60s when we left. I had on many layers, and instead of wearing my Keen sandals as I usually do, I opted for calf-high rubber boots. Couldn't stand the thought of a few hours with cold, wet feet.
Then I went out yesterday, meeting a friend on a different creek, this one close to my house. We had beautiful weather and a lovely paddle, seeing several great blue herons, a swan family with 3 cygnets, a pair of mallards that looked like they were setting up a nest, and separately a group of 4 male mallards on what must have been their bachelor pad. There were marsh wrens, common yellowthroats, red-tailed hawks, and lots of red-winged blackbirds. There was a small swimming snake and a mammal – I'm guessing muskrat but it may have been an otter.
I was very happy when I got my roof rack on my car rather easily. Last year it was quite difficult, and I ended up having to drive an hour to the place where I bought it so they could fix it – the result of my having bumped it on the ground and thrown it out of whack. Taking my time and care removing it last fall and placing it this spring made all the difference.
I'm going to leave you with some information about how kind and talented my children are. On the Tuesday before Mother's Day my son called my daughter and asked if she thought I'd like a Little Free Library. She answered in the positive and he set to work. Built it out of recycled/repurposed/scraps he had hanging around. Got it to her on Thursday afternoon. She painted it, using in part some lavender paint she borrowed from me (what I had painted my shutters with and use for my kindness rocks with), then on Friday snuck some leftover shingles out of my garage. On Sunday they made me lunch, then came to my house and installed it. The post is an old oak beam from our place in the sticks that my son had moved to his house and never used. Using a post hole digger he sunk that 5′ piece of 6×6 oak more than 2′ into the ground and attached the top.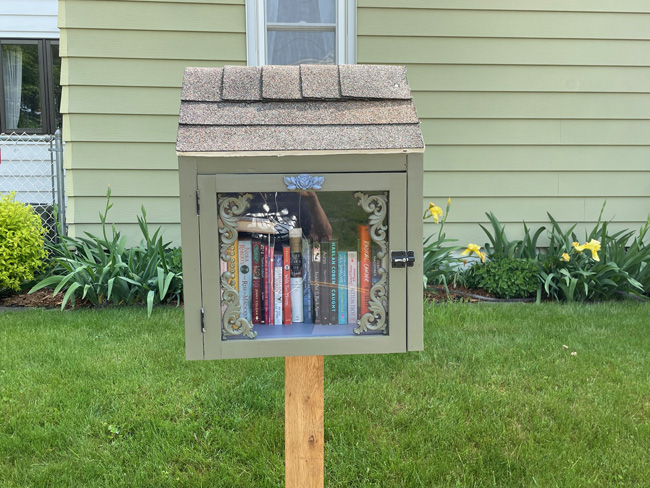 It's beautiful and matches my house! I just got it registered and expect my official Little Free Library plaque to arrive this week. (Who knew you had to pay $40 plus shipping for that?!)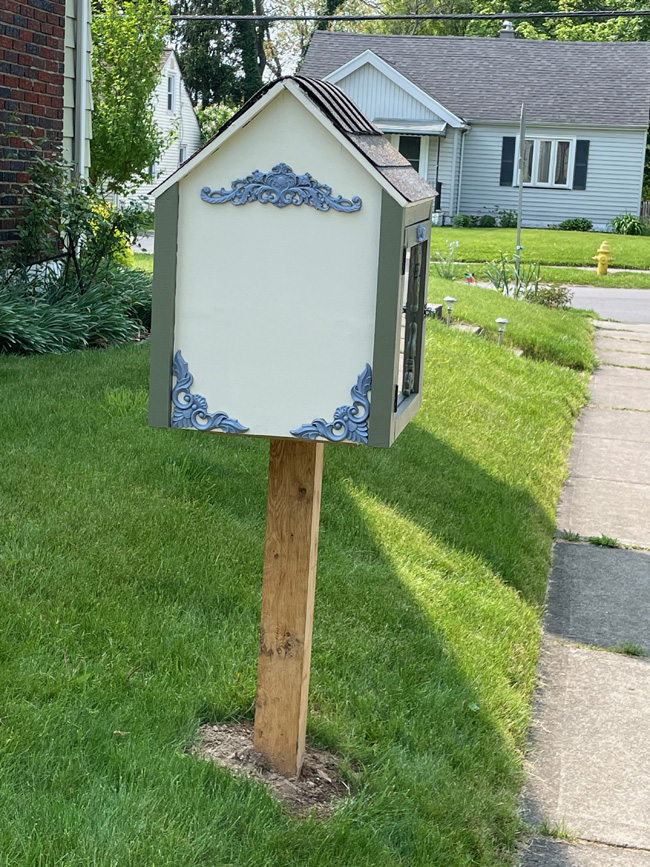 Books have been moving in and out, which is the best thing of all. Wasn't this a great gift?!?!