An entire month. To the day. With no post. How does this happen, especially when I'm feeling so busy? Obviously too busy to blog. 😉
But then I should have a lot to show for it, shouldn't I? Alas, that is not the case.
In chronological order – or something close to it…
Way back in late August I showed you the striped warp I was beaming for towels. They got woven and listed in my Etsy shop. A few have sold. Trust me when I tell you that part of me hopes that none of the towels I weave at this point sell, as I want to have plenty of towels to bring to the Weavers' Guild Holiday Sale.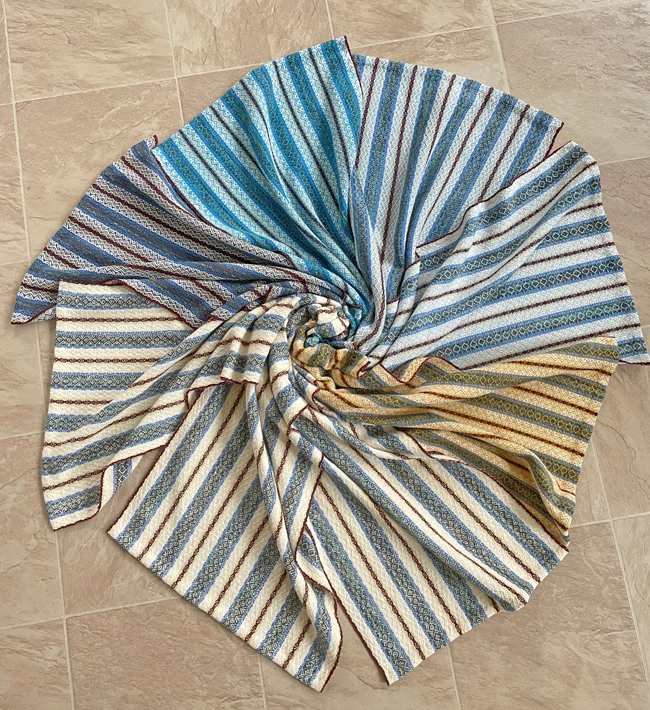 So why do I put them up on Etsy? Because a sale is a sale is a sale, right?
After those towels I put another warp on with all those luscious new colors. More dots.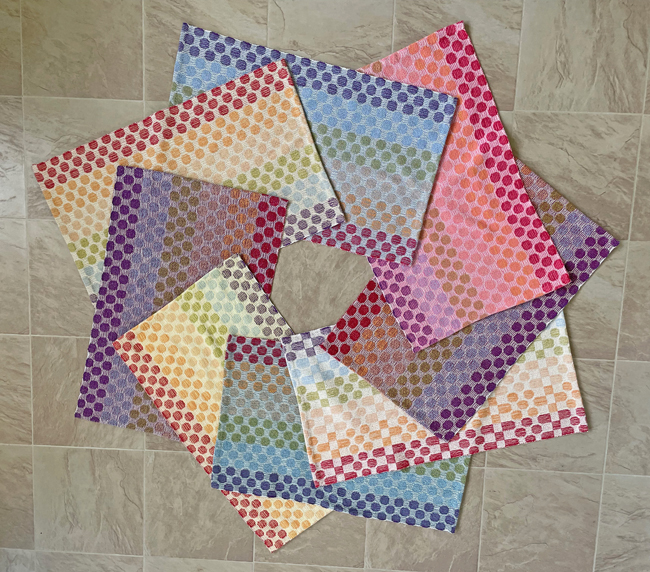 That lightest colored one? It's not dots – or at least not just dots. I really sort of hated it on the loom so didn't make any more with that type of treadling. Off the loom? I like it and now sort of wish I'd done more. That's how life goes, right?
Then I quickly put on rayon chenille warp for 2 rainbow shawls.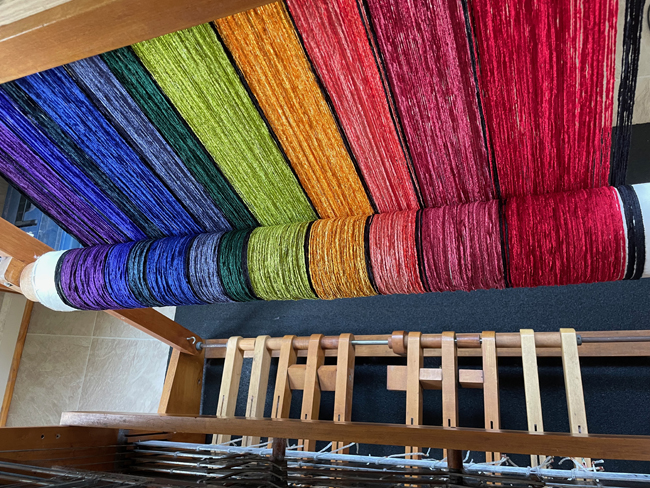 Seeing these colors just makes me SO happy. And these will be my last rainbow shawls. This is the end of my yellow and orange rayon chenille and I won't buy more.
Then I wove the two shawls, using black rayon chenille as I've done before. After the fact I wish I'd just used black rayon, which is substantially finer than the rayon chenille and wouldn't have covered up so much of the warp threads. The black rayon chenille darkened everything up more than I would have preferred.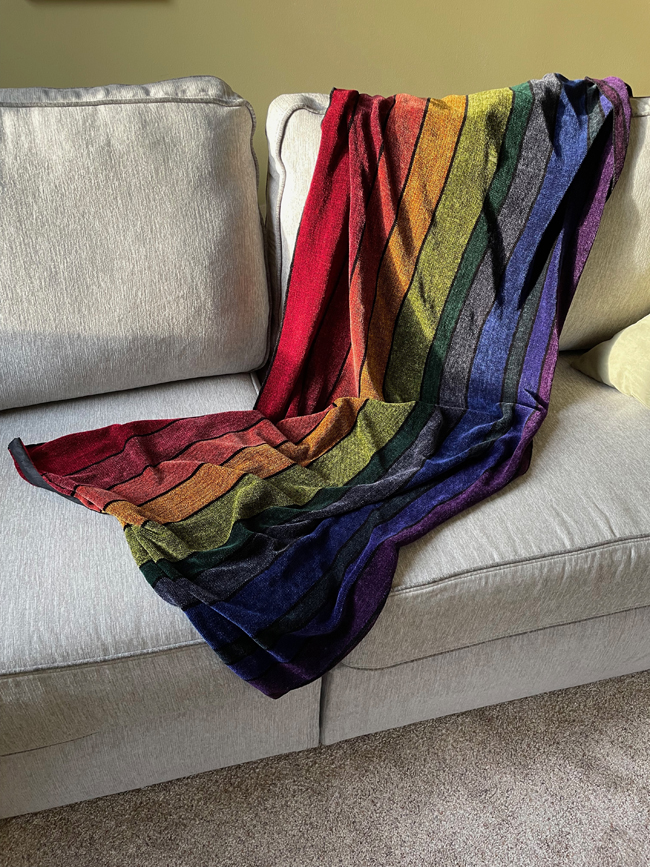 Instead of doing a self hem, I machine stitched on a bias binding I'd made many months (years?) ago of dupioni silk. Then I hand hemmed that down. You can just see the corner of it in the photo.
I sent one of the shawls off to the Copper Shop Gallery in East Aurora; the other will go to the Holiday Sale.
While those shawls were in the washer & dryer I stitched up the September batch of bead bags.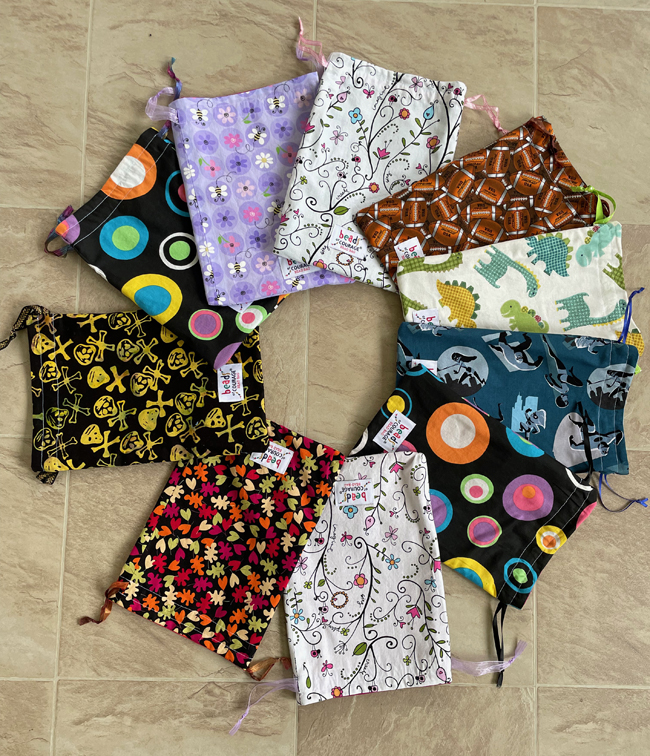 Then I planned, measured, and beamed a warp for my September hugs. On September 28.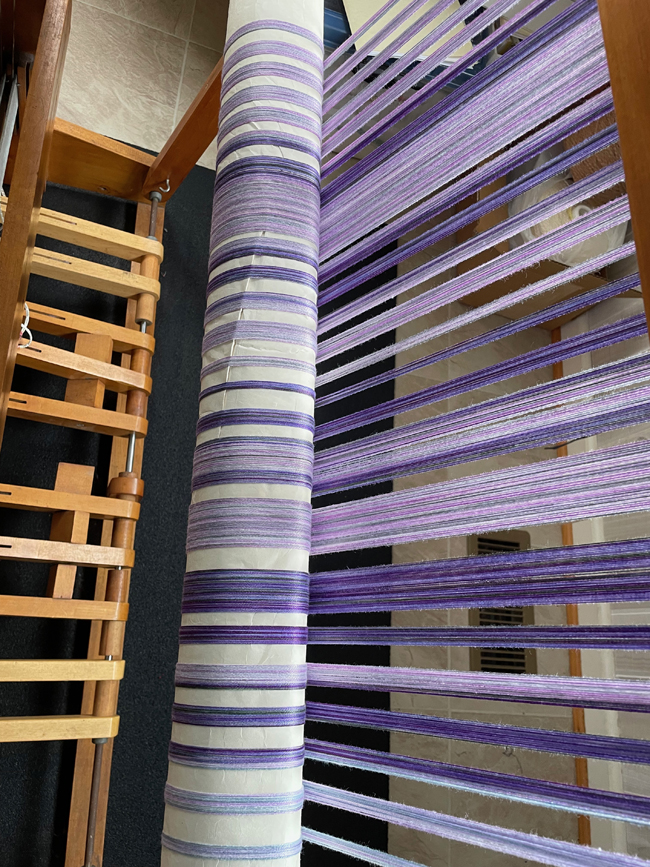 On the 30th I got 1 and 1/3 woven. Today I've woven 1 full one, so about 2/3 left to weave. I had to leave the house for a few hours for another obligation, and *hope* I can get that last hug woven before the day is out. I'll still be late for September, but that's the best I can do. Besides, this is a self-imposed deadline, so….
Closing shot. While Florida & South Caroline are dealing with Hurricane/Tropical Storm Ian, we're having pleasant weather here in western New York. Look at last night's stunning sunset.