I was FINALLY able to get together with my friend and give her the Christmas present I'd made, so now I can reveal them all.
It all started with this.

I bought enough fabric to make six reversible aprons – print on one side and solid on the other.  (Note that the pattern isn't designed for that so it was a modification to do so.)  Three prints and three solids that I would mix up so no two aprons were the same. Two pockets on each side. I would weave a towel to coordinate with the colors for each of the six recipients.
First I cut out two of a multi-veggie print. Uh oh. Only then did I realize that based on my fabric layout one of the prints would be upside-down. Well, it is what it is. So I learned from my mistake and didn't do that again.
The first apron/towel combo went to an out of state friend (since high school – MANY years ago) and her hubby. They got the upside-down print, and straps following the pattern directions. Their apron is backed with a denim fabric, and burgundy predominates in their warp to go with their burgundy countertops.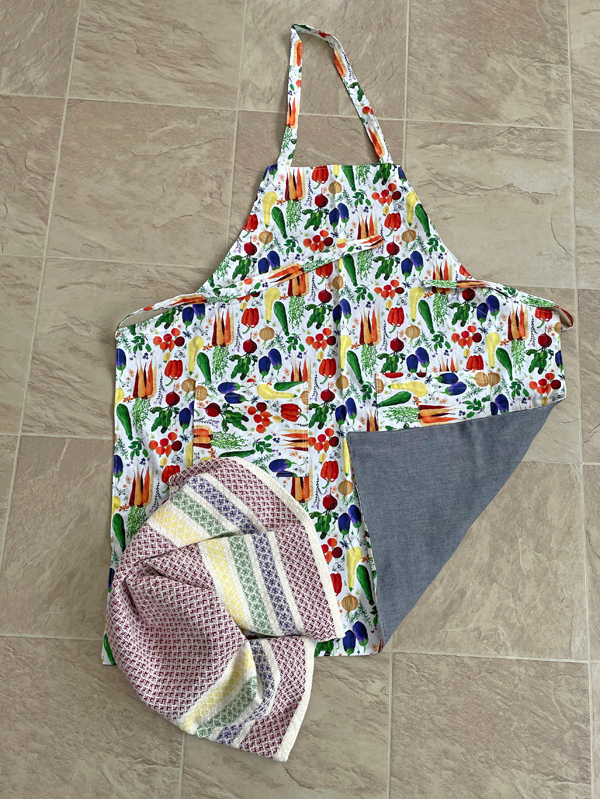 When I tried the apron on after it was complete, I decided that while the concept of a single tie for both waist and neck seemed like a good idea, in practice it wasn't the best. The apron either gapped or rode up (or down) around the neck. So I modified that for the five remaining aprons, making separate neck and waist ties. The women and men in each family could adjust and re-tie as needed.
Next I used the veggie print, right right side up, backed with a neutral cotton-linen blend. This went to a niece and her husband, also out of state. I have no idea what her kitchen looks like, so kept the majority of her towel a neutral gold-ish.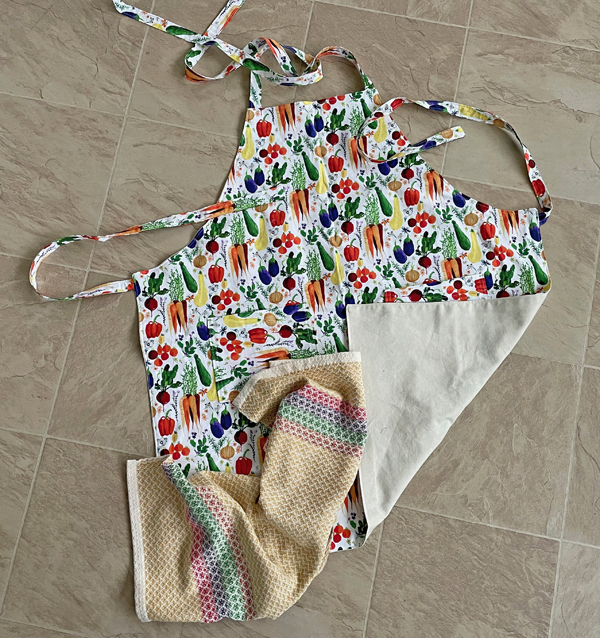 I moved to what is my favorite fabric, all hot peppers. I knew I wanted to use this for my daughter and son-in-law, and back the dark print with a solid light gray. Knowing my daughter's tastes I also made the body of the her towel light gray.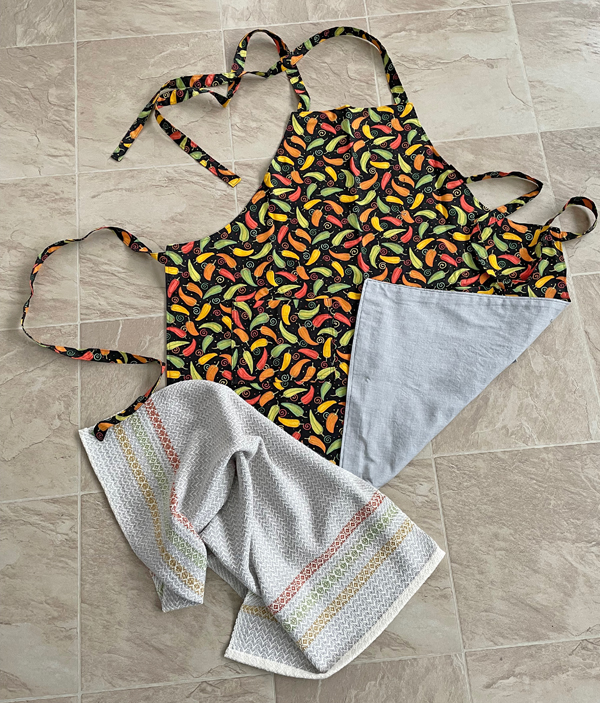 My sister and brother-in-law got the other hot peppers, this time backed with that blue fabric. I know they can handle more color in the kitchen, so went with cranberry for the majority of their towel.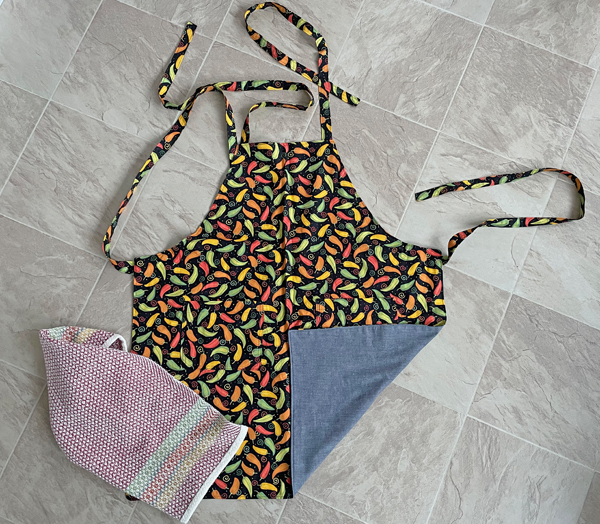 Now for the last two apron-towel combos. My out of state nephew and his wife got a rather vintage-looking teacup print. I backed it with the solid gray, and used since I also have no idea about their kitchen used gray the for majority of their towel.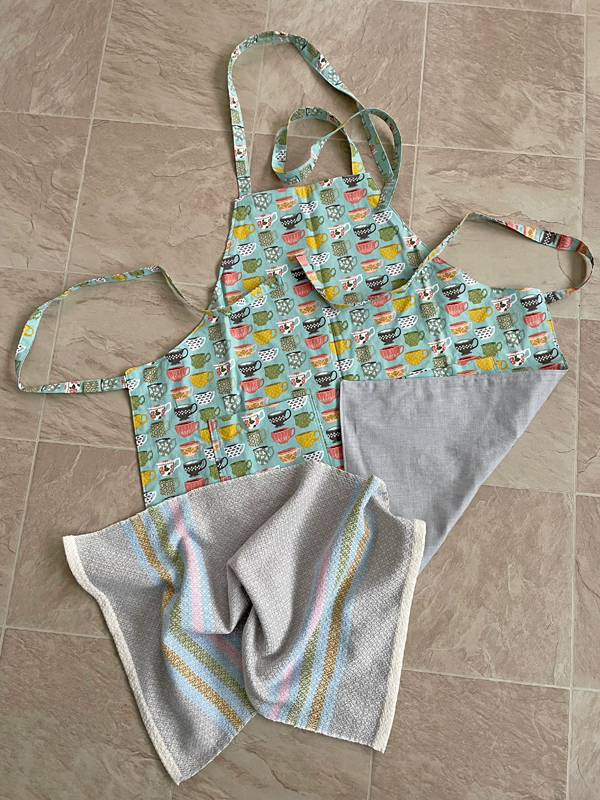 And last, another great friend got the teacup print, backed with the undyed cotton-linen. I used the teal of the print background along with a pale pink for the majority of her towel.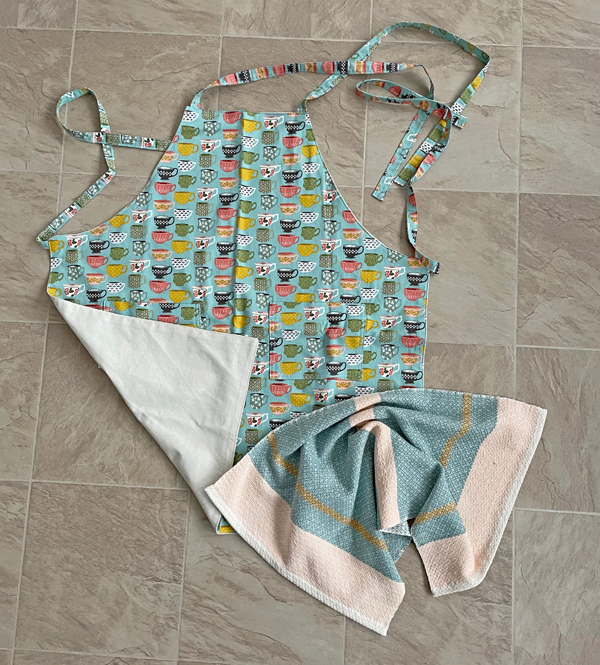 I didn't think my son would wear an apron, so he got two towels, both in guy-type colors. 🙂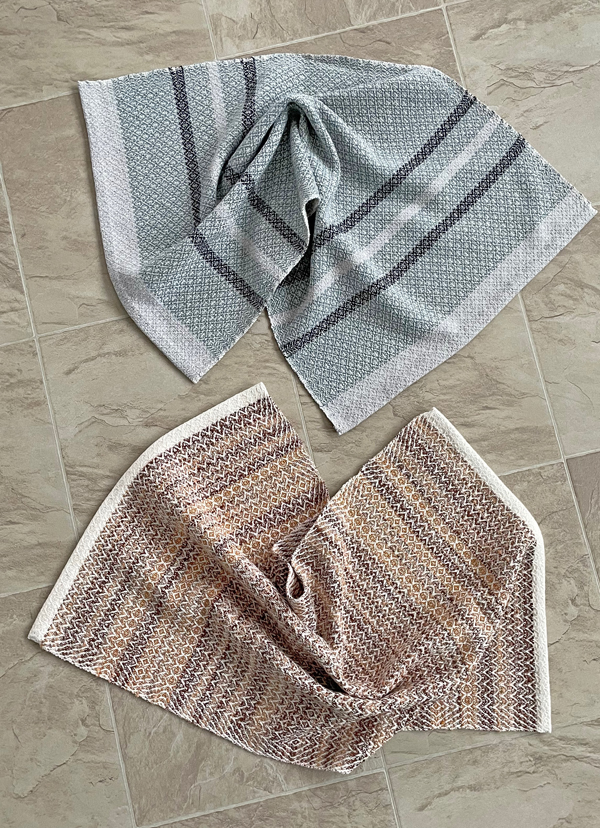 Now I need to make myself an apron! The one I use isn't great.
**********************
I also finished up the weaving of the inserts for my 2022 Christmas cards. I got 38 inserts, at least a dozen more than I need. I also have some left over from my 2021 cards, so one of these years I'll have all the extras I need and won't have to weave more. 🙂

*****************
The other really big thing I did was finish all my year-end reports for the accountant. This shouldn't be as big a deal as it always seems to me. I mean, really, is the IRS going to be concerned if I make a mistake in recording my TINY amount of business income or expenses? But it always makes me anxious to do the work. And now, with the need to use 2 different computers (the old one has QuickBooks on it and nothing else), it takes more physical, as well as mental, space to accomplish it.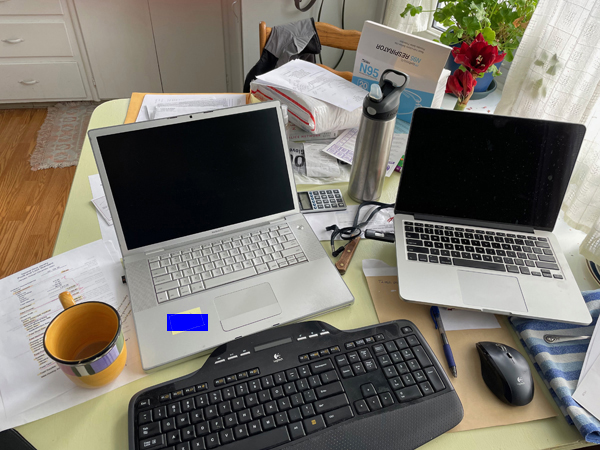 But whew! It's done! Now just waiting for some statements to come in the mail.