A few days before Christmas I got a hankering to do a jigsaw puzzle. Mind you, I haven't done a jigsaw puzzle in probably 20 years. Why now? Who knows?
My daughter offered me one of hers, but the visuals didn't really appeal to me. I went to Dan's, the local craft store, and was amazed at their selection. I bet they have 200+ jigsaw puzzles, from those designed for little kids to complex and 3-D ones. I spent a long time looking at them.
I intended to get a 1,000-piece puzzle. But none of the images moved me. I pulled out a 1,500-piece puzzle and loved it. But I didn't want a puzzle that big – 31.5″x23.5″. So I kept looking at the 1,000-piece designs. Nope, I had to get that big one. It's a Ravensburger puzzle, One Dot at a Time.
I had no idea just how challenging this puzzle would prove to be! I was also surprised at the brain power it took – analyzing color, shape, and size. I hadn't realized/remembered that jigsaw puzzles do more than just help pass the time.
This one took up about 3/4 of my kitchen table, and even if that weren't the case, my OCD self just kept at it hour after hour. For five days straight. I finally finished it about 9PM on New Year's Eve. Sorry for the quality of the image,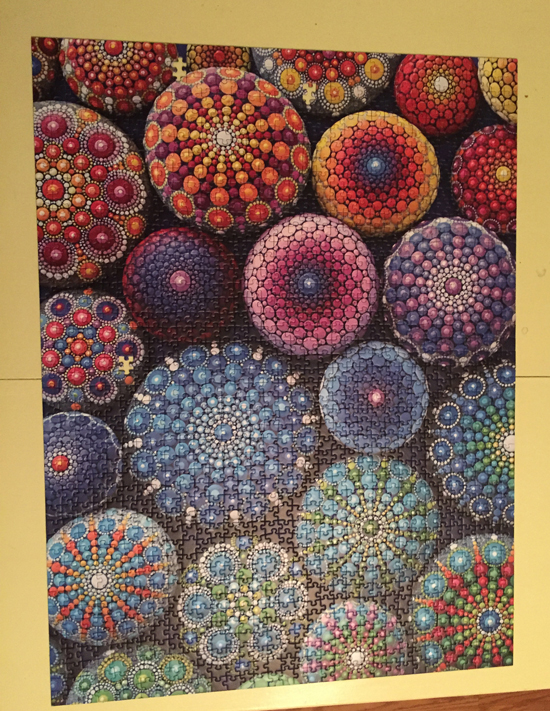 If you look closely you'll see that there are 3 pieces missing. My sleeves often pushed pieces off the table, and I'm assuming the furry little creature I live with ate them without my noticing. (Oh, Jack – not good for the digestive tract!)
I took a photo of it, printed it out, ID'd the missing pieces, and offered the puzzle on my local BuyNothing group. It was snatched up quickly.
So five full days doing virtually nothing else. A good way to spend a Christmas vacation, I suppose. I doubt I'll do another puzzle for several more years.