Feeling better both physically and mentally.
Physically, I got a nasty cold that came with a low grade fever. Although not high, it had me down for the count. I slept for about 32 hours with minor breaks for short walks with Jack, making easy chicken soup (took a nap in between steps), eating a bowl of that and taking lots of meds. After that I felt infinitely better. I still have a stuffy nose, but I feel ok.
Mentally I feel better, too. I made progress on a few fronts and they all feel good.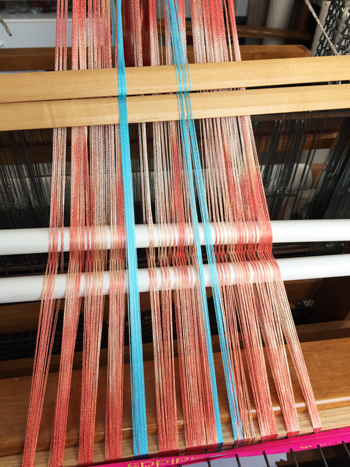 First, I beamed and wove that living coral & turquoise scarf – the second batch of dyeing I'd done in these colors.
I wove the first piece with black weft and an advancing twill treadling.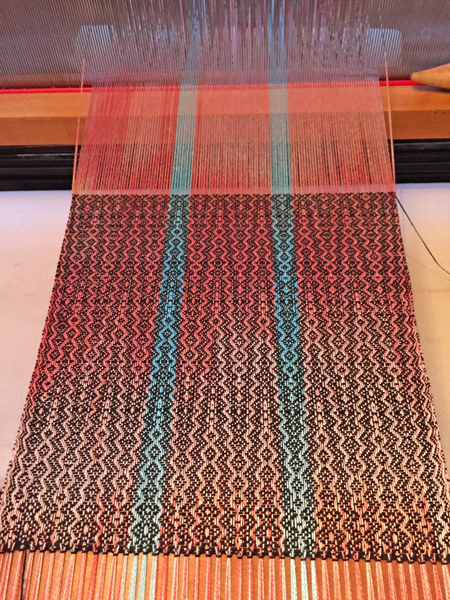 At that point I honestly couldn't remember how much length I had left on the loom, or find my paperwork that told me what I had planned for. I knew there would be at least one short cowl and one something else, but since I didn't know what the 'something else' was, it was most sensible to weave the short cowl first.
I picked a sienna tencel and a single straight treadling that would create zig zags. I like the look. I decidedly do not like the treadling error that's so obvious in the photo but which I didn't see on the loom. Sigh. It will be close to, if not part of, the hemming of the cowl, so probably won't show. I hope there are no other errors!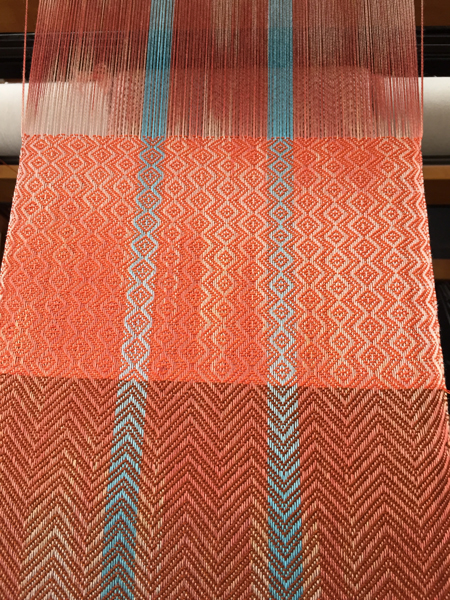 For the 'something else' I picked an orange weft I created by using 1 strand of 16/2 bright orange and 1 strand of 20/2 medium orange, both mercerized cotton. I used a simple dance 'up and down the treadles' for this one. I used some stripes of gold with metallic cotton for interspersed stripes. It might be my favorite.
Once all 3 pieces were off the loom, they sat for a bit before I got to doing a some necessary needle weaving (an error in tie up for the first third of the first scarf – UGH!!) and then fringe twisting, so I can't show them to you yet.
While they were waiting for my attention I did something just for me. Sarah Swett, a woman with crazy talents for tapestry, spinning, weaving, painting, and more, posted directions for a skirt made of a combination of weaving and knitting. I'd seen her blog posts where she showed the ones she'd made herself months ago and really admired them, so when she posted a PDF with directions, I was on it! A friend wanted to join me in this adventure, and I was so excited I set to planning immediately.
After a few false starts, I settled on a cotton warp (10/2 cotton, 1 strand light gray, 1 strand bright turquoise) sett at 24 ends per inch. For weft I used an alpaca-silk blend in periwinkle and a mystery fiber in a bright-ish blue, woven in clasped weft.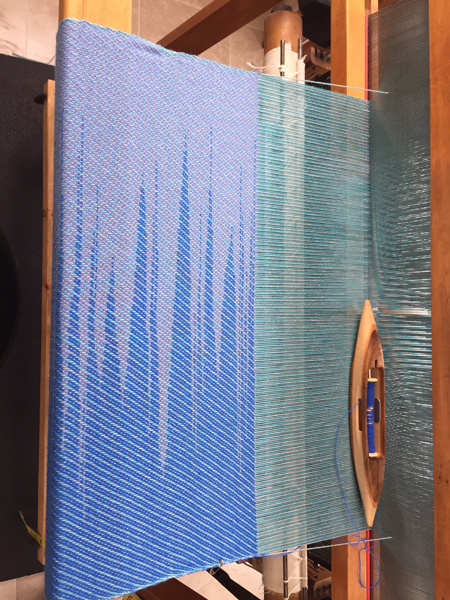 I purposely showed you the photo in this orientation because the width of the weaving will be the length of the skirt. I can't wait to take the next steps on this project!
I was feeling guilty doing something just for myself as I was struggling with whether or not I could weave enough to do both of my desired summer shows. Then I had an AHA moment!
The first show, at Chautauqua Institution, required very high class items – my handwoven scarves, shawls, and now garments. The second show, in an artsy section of Buffalo, will be open to other options. I believe that as long as I jury in with the range of work, I can bring both some of my handwoven items and some pieces I'd dyed but not woven. For example my shibori-dyed socks. And some ice-dyed scarves or similar. I even think a photo I took this winter will work for the jury shot of my dyeing.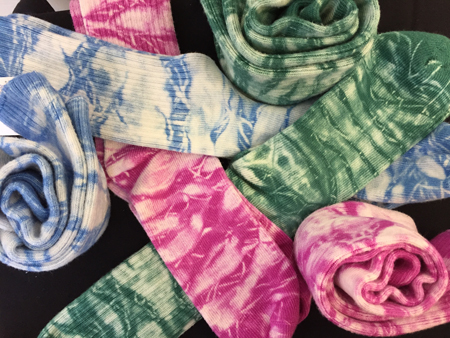 Dyeing clothing someone else made is SO much quicker than weaving, and I think it will fit for the second show. That decision made me feel infinitely better mentally.
So now I need to finish the 3 coral & turquoise scarves, work on the next step for the skirt, re-plan the project for that first coral & turquoise yarn I dyed and get it on the loom. And keep moving forward.