I got that last warp, planned to become a circle shawl, woven, washed, and dried. Before I go any further I have to make a muslin, which I didn't feel like doing at the moment. So plan the next piece for a jury photo.
Gee, I'd like it to be woven from yarn I've hand painted. Well that doesn't happen overnight. Hand painting yarn takes time. Plan the project. Measure the yarn. Scour and pre-soak. Mix dyes, paint, steam and batch. Rinse and soak. Hang and dry. All that takes place before I can begin to beam. So I can't weave with my hand painted yarns spontaneously. I have to do the first several steps, then put something else on the loom during all the waiting steps. I'm planning that 'something else' in my head at the moment.
I started by looking at my dye inspiration board photos on pinterest. Some really nice things, but why am I not excited about dyeing any of them?
I decided to check out Pantone's color of the year. I've never felt moved to jump on that particular bandwagon before, but this time the photos here spoke to me. Wow – vibrant!
So next I had to figure out how to create a similar color from the small assortment of dyes I have. I used Tangerine, Mixing Red, and Sun Yellow for the coral, with Turquoise and Intense Blue for the turquoise. I wound 5 bouts of 8/2 tencel – 3 to paint as warps, 2 to paint as skeins.
Here's 1 of the bouts I painted today.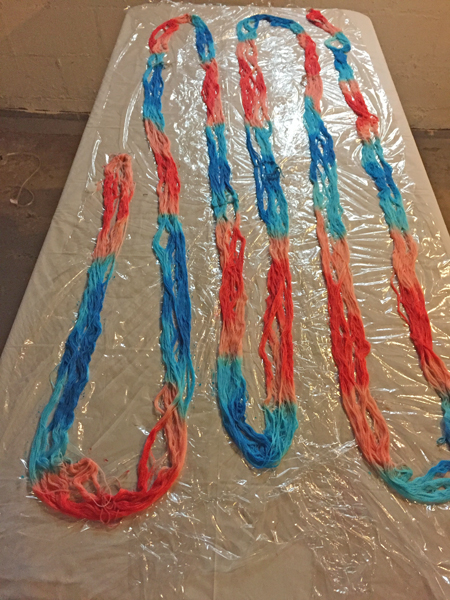 And one of the skeins.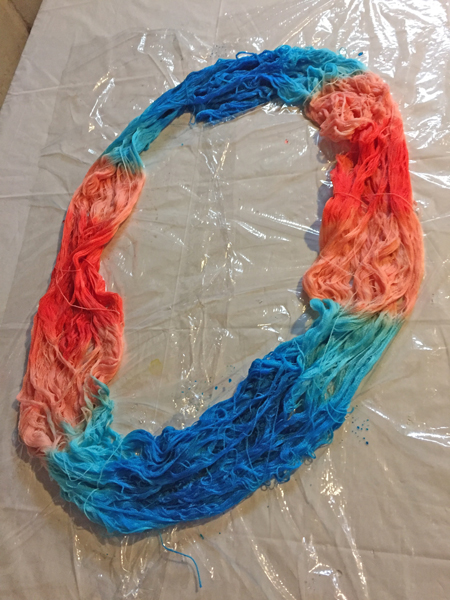 All 5 bouts were painted and steamed and are currently batching overnight. In the morning I'll unwrap them and put them in a bucket to soak for at least several hours to minimize the rinsing time and water needed.
Only then can I hang them to dry, and hope that my choice of colors looks good dry. Fingers crossed on that. And on the hope that I can find a weft color that shows them to their advantage.
Although I'm still committed to using up my still-too-much-yarn stash, I have ordered 5 pounds of tencel and 3 pounds of silk (actually out of stock at the moment) for dyeing.
The good news? Yesterday, in addition to measuring out that tencel for the dyeing, I got all my year-end paperwork (actually computer work) done! Now I just have to wait to get some 1099s, W-2s, and the like in the mail so I can take it all to my accountant. Whew! That's a load off my mind!
Plus, between yesterday and today I'm about 1/3 of the way through the 6-hour online defensive driving course to reduce my insurance cost. I don't like doing it, but I do like that financial benefit, and it's only required every 3 years, so it's well worth the time.