I had an order for 3 custom towels. So I put on a warp for 10. Or so I thought.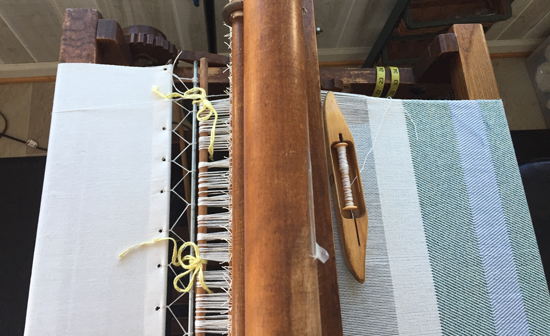 This is how my warp ended. I could not get the shuttle through that opening any more. And I know that the last towel is really too short. So is one of the earlier towels where I ran out of the weft yarn much sooner than I'd thought.
That means I'll get 8 decent-sized towels, 3 of them already spoken for. Not what I'd hoped.
Unrelated, I've decided that I spend FAR too much time on Facebook. The recent bruhaha has convinced me to just let it go. I'm not going to cancel my account just yet, but I'm committed to not opening the app for a week. Then we'll see what happens.
Update: Hah! Realized I can neither close my FB account nor simply not log in…I am committed to doing regular posting for the Weaving and Fiber Arts Center. I can, however, simply log in, do that post, and close the window without looking at anything. That's the plan.