Well, well, well. I've done it again. Made the same mistake – twice – that I've made before and swore I wouldn't do again. HAH!
What is that mistake? It's forgetting to allow for take-up in my warp calculations. That's why I didn't have enough warp for 10 towels. If only I'd realized it before I planned and beamed the next warp, which was intended to be for 3 scarves. Fortunately I DID realize my error after that scarf warp was threaded. So I adjusted my calculations, working backwards from the length I actually had, and realized that I could weave 1 fringed scarf, 1 long cowl, and 1 short cowl. Better to know then than later. But still…….how many times will I make this mistake?!?!?!?
Anyway, here are the towels. The first photo shows the three that were special ordered. I'm not sure if she'll want them, especially the one on the left. The woman wanted it to match exactly a towel she had from me, but I didn't have enough of the weft yarn left, and since it was a custom hand painting job from several years ago, I'm sure I couldn't have gotten more. So I did the best I could to make it coordinate, since it couldn't match.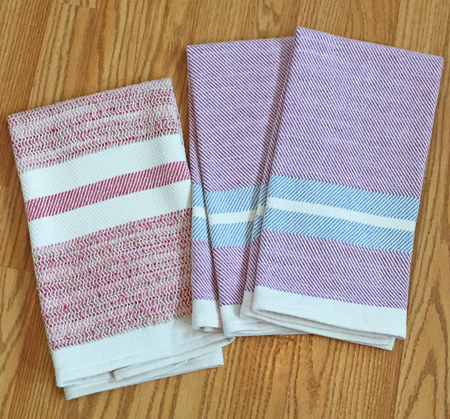 Here's the original towel I was to match.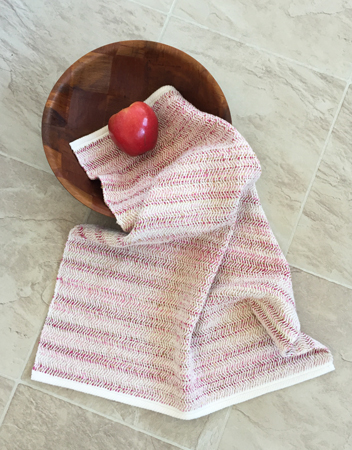 Then I had a friend tell me that he was looking for 3 towels that looked like they went together. So I tried to weave 3 or 4 coordinating in yellow and orange, since the colors looked cheery to me.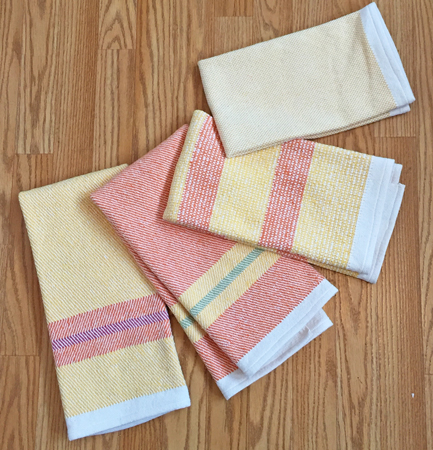 The one on the top is one of the shorties – only 21″ long. He'll see these towels, and 3 bumberet towels, plus the yellow towel from the last warp, on Friday. He may choose something – or not.
Here are the last 2 towels.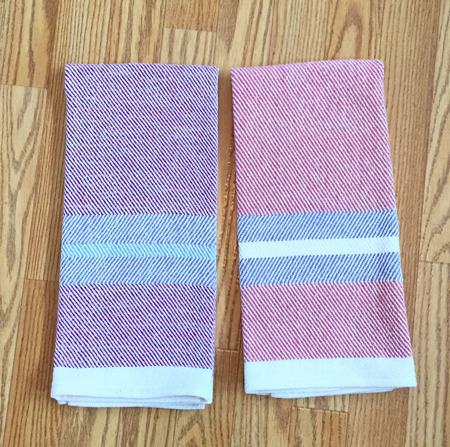 The one that you saw at the end of the warp while on the loom will go to my daughter. In addition to being short, the weft yarn has some looping at one of the selvedges, so I'd never sell it. She can wipe her hands on it. Or whatever.
Not that I'm OCD or anything, but that scarf warp I mentioned earlier was essential if I was to meet my March goal. I used the lace draft I'd created last month, modifying it to be scarf width. Warped the loom with a silver-gray 8/2 tencel and wove the first scarf with that as weft, too. The lovely lace pattern doesn't show up much in this photo, but you can see it nicely in the next one.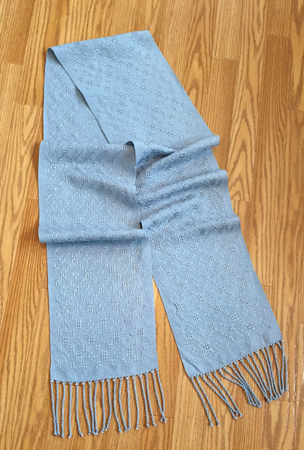 I wanted to 'fancy it up' a bit, so worked glass beads into the fringe. I really like it. Just enough glitz.
The long cowl got a medium blue weft.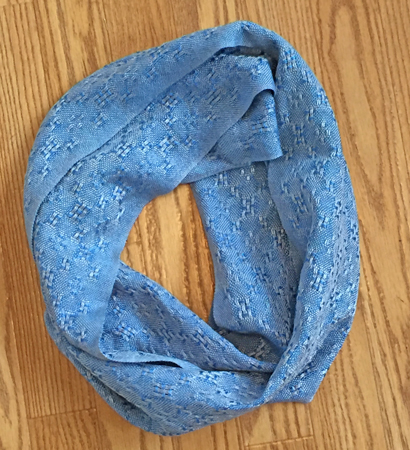 The short cowl got a charcoal weft. I like the scarf and both cowls.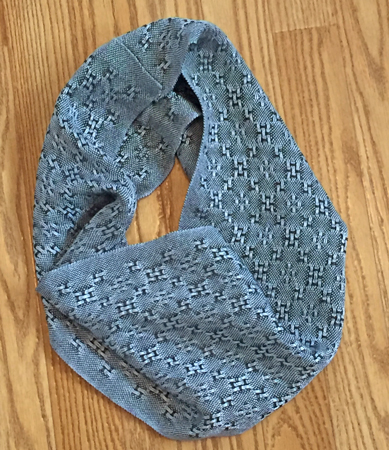 Now, if my friend buys 3 towels on Friday I need to weave more towels. Even if he doesn't I need to weave more towels. I also need to weave more scarves. Which should I do next? Which will I do next? What yarns will call to me? What weave structure? Will the dyes in the basement start pulling on me? Decisions, decisions.