I think I'm done with a concept or a fiber, but then I'm not.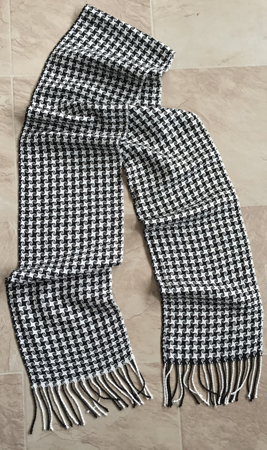 I'd woven hand painted black and white tencel scarves in December, and black and white shawls in January. Then last week I decided I needed to jump back and revisit black and white, this time in crisp delinations. I haven't woven pinwheels in a few years, and decided it was time to revisit this 2-shuttle weave. I stuck with 8/2 tencel, but didn't dye anything myself. Took me several days to get to the fringing. Yesterday I wet finished and pressed 2 scarves and a long cowl.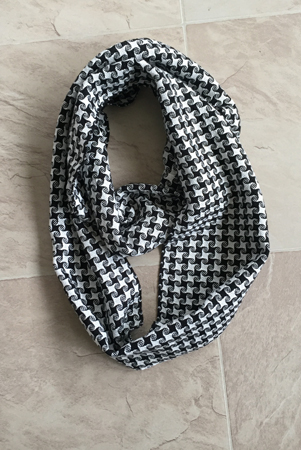 I had thought I was done with rayon chenille for a while, too, but apparently not. As soon as those black & white scarves were off the loom I jumped back again and wound a warp for 2 rayon chenille shawls. I am committed to using stash yarns, so went with several blues for this warp. (I have A LOT of blues, purples, reds, and earth tones, so we'll see more rayon chenille in the coming months. My gem tones always sell so much better than my earth tones; I must try a different combo of them – or something.)
Anywhoo, here's the latest blues rayon chenille shawl.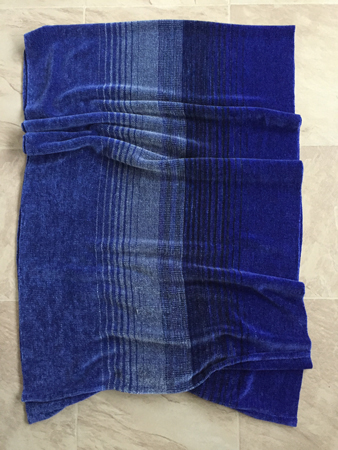 Now that I've got the whole mobius thing figured out, I'll make more of them. Here's this one, in which I used 4 different wefts in wide stripes.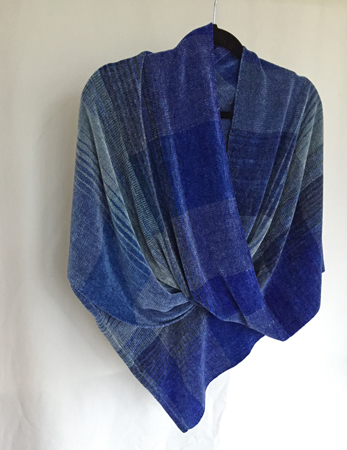 I am mentally committed to weaving lace next. In cotton. I'm working on design and calculations now, and should be able to start measuring that warp tomorrow.