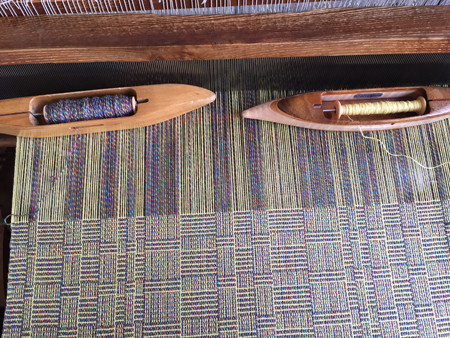 I've finished weaving the 3 log cabin towels with yellow and that 'confetti' yarn. They're cut off the loom but no hemming or wet finishing yet. I don't think I either hate or love them, but I'm reserving judgement until they are wet finished.
I brought 9 towels to Cazenovia, but at least 3 were sold on the first day. They asked me to send more, but when I got home I realized I only had 3 more towels. So I wanted to not only finish those log cabin towels, but also put another towel warp on the loom right away. I decided on bumberet, a structure I've been wanting to try for a while.
What, you may ask, is bumberet? Wish I could tell you for sure. I've tried getting clear info online, and I've found some contradictions. The best I can be tell you is that it's a 4-shaft structure, is usually very colorful and is (maybe?) somewhat ribbed. I've seen a variety of drafts and decided on one that is simple in both threading and treadling.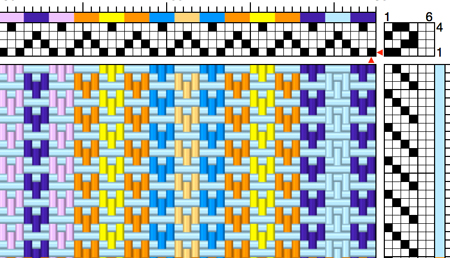 Those are not the colors I used…I chose a wide array of blues and greens with a touch of yellow thrown in for good measure.

This structure is slow to measure. I wind 3 lengths of color A, cut & tie on color B for 3 lengths, cut & tie on color A for 3 lengths. Repeat with 2 new colors. So I never wind more than 3 threads of one color. LOTS of starting and stopping. Here's bout 1 on the warping mill.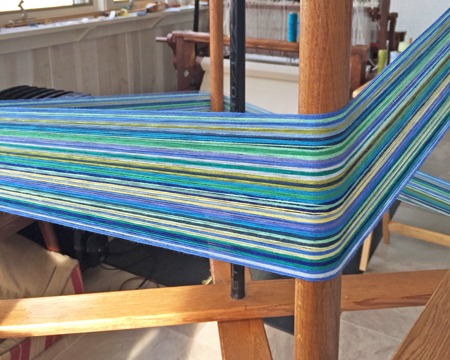 I wound that yesterday. Today I wound the other 3 bouts, beamed it all, and threaded 430 heddles and the reed. Tomorrow I'll start the weaving. It's a single shuttle weave and a simple treadling pattern, so that should move along smoothly. My plan is to use a different color weft for each towel, assuming I have enough of 6 of the warp colors to do that…I was using up stash (yay!).