I got those 3 log cabin towels hemmed and wet finished. Here's one in its entirety.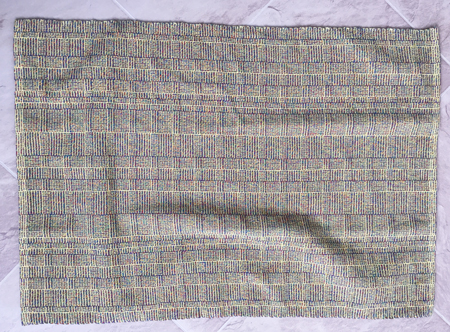 I am still quite ambivalent about them. I chose yellow for the solid color because sometime, someplace, I heard that the most common paint color for kitchens is yellow. I think I would have liked them better if I'd chosen blue for the solid. But maybe not. I'm guessing I'll have these towels for some time.
I also got the 6 bumberet towels woven, hemmed, and wet finished. Here's the full width so you can see all 14 colors in the warp, with the periwinkle weft.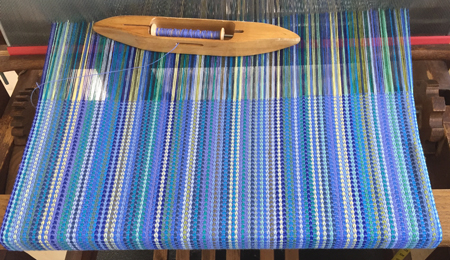 I wove each towel with a different weft color.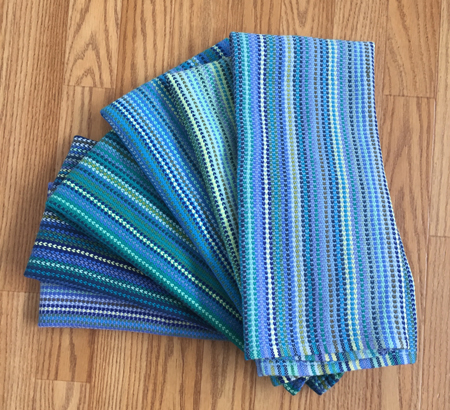 I surprised myself by picking the pale green as my favorite. I never would have predicted that. But as I said to a friend, I can almost feel the spring breezes coming off that towel.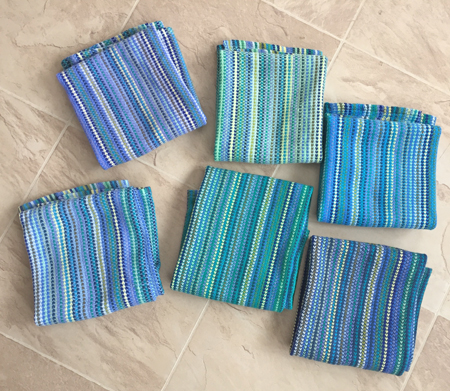 This afternoon I mailed off 1 of the log cabin, 2 of the bumberet, and 1 other towel I'd found in my stash to Cazenovia Artisans to augment my display there. I've also sold one of those bumberet towels locally.
As soon as I have time I'll do the glam shots for the other towels and put them up in my Etsy store. Gee, I have so much to put in there! Where does the time go?