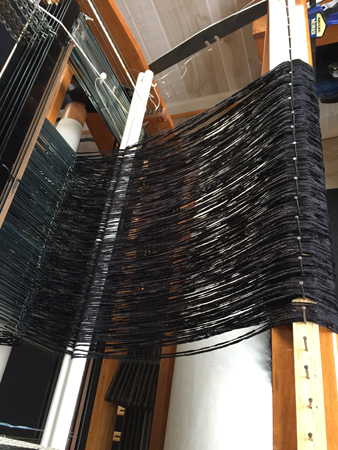 This is my idea of Black Friday. I'm working on a custom order for a solid black rayon chenille scawl. "A what?" you might ask.
I don't know what else to call it. It's wider than a scarf and narrower than a shawl, so for today I'm calling it a scawl.
The order came from a woman who'd visited my Etsy store. She initially ordered a red scarf, but through communication with her, she decided that a wide, black scarf (or scawl) was what she really wanted. All good with me.
I've also sold an alpaca scarf on Etsy. So even taking into consideration that this is the best time to sell things, and that I've taken care to use tags that help me get found, it looks like Etsy was a good decision for me. I am POSITIVE I would not have sold either of these pieces through my website.
And I'm being successful in limiting my time spent on Facebook, so that's been fine so far, too.
Hope you all had plenty to be grateful for, and enjoyed your Thanksgiving, regardless of how you spent it.