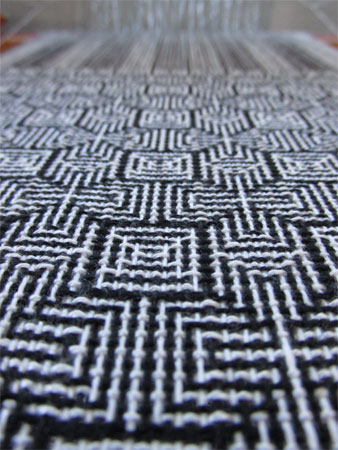 I've always been a fan of trompe l'oeil — art that fools the eye into seeing things that aren't there. Or not seeing things that are. Shadow weave can do some of that.
I've had this weaving draft on the Weaving Inspiration board of my Pinterest page for some months, and now I had time to do it. Initially a potential for chair cushions, I'm weaving it out of rayon for scarves. I warped for three, and like all two-shuttle weaves, it's slow going, but I'm really liking the outcome. A more distance view can give you an appreciation for the way threads seem to rise up or sink down in this flat piece of fabric.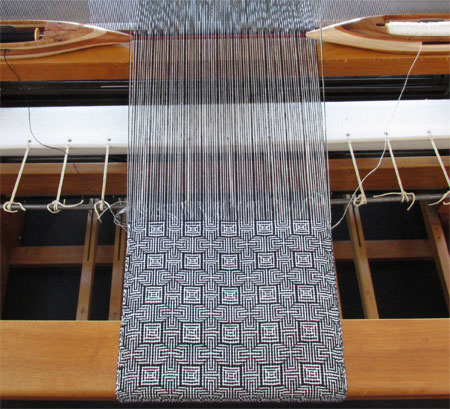 Although you haven't asked, I'll give you a mini Jack update. I learned today that the poor fellow has hookworm. This has probably been a historical problem for the little guy based on his history, and the Heartgard was successfully dealing with it. I stopped giving Heartgard at the end of November, carrying its benefits till the end of December. Given that Jack is a poop eater, with bunny poop being a particular delicacy but other poop not out of the question (YUCK! but I'm guessing it was a common behavior in his hoarding home and it will be a lifelong thing with Jack), he will get treated for the hookworm now and will need to get the Heartgard year-round. Probably for life. Not a big deal for either of us. I've put it into my smartphone calendar as a recurring event to remind me.