I have nothing but great things to say about Birchcrest landscaping. If you're in the Rochester, NY area, I definitely recommend using them. Every crew that came was pleasant, professional, hard-working, and skilled at their respective jobs.
Here's the front of my house, from across the street.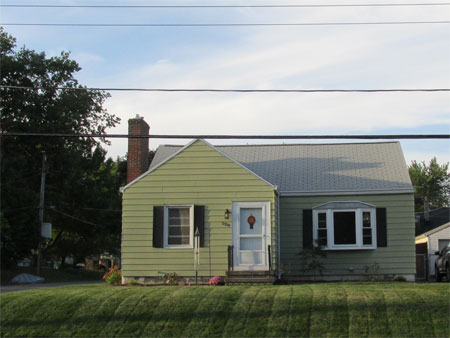 I do realize you can't really see anything at this distance…but that's sort of the point at the moment, what you don't see. No big old yews in the front, no huge maple in the back.
Here's a bad photo of the left side of the front steps.
From left to right you see a gold mound spirea, planted by Birchcrest, a deep red large-flowering hibiscus and a mum, planted by me. What you can't see are some orange and pink hyacinths I also planted. There are also about 200 daffodil bulbs and some type of perennial geranium from the prior owner mixed in here.
A much better photo of the right side of the steps.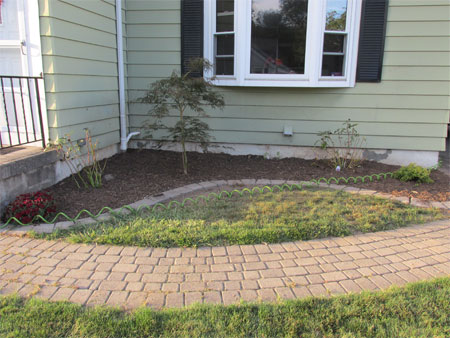 From the left is a mum and a pink large-flowering hibiscus that I planted, a Japanese maple Birchcrest planted, another of those hibiscus (me), and another gold mound spirea (Birchcrest). My next-door neighbor is going to give me some divisions from her garden that I'll put in this space, too, and maybe along the side.
Along the west side of my house, Birchcrest extended my narrow house garden almost all the way down to the end of my fence.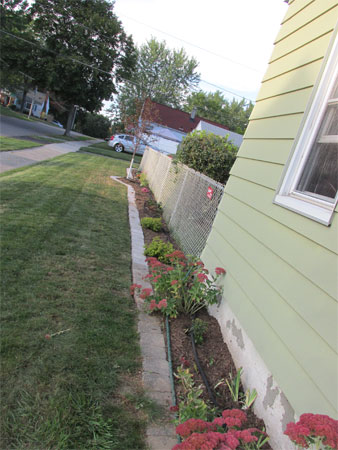 They installed the stone border and planted 2 gold mound spirea and a pink-flowering crabtree. I planted a lungwort, 2 lenten roses, 2 small mums, 2 variegated leaf tall phlox, a really cute perennial geranium, 2 lavenders, and about 2 dozen tulips.
In the back corner of the fence is a small garden area.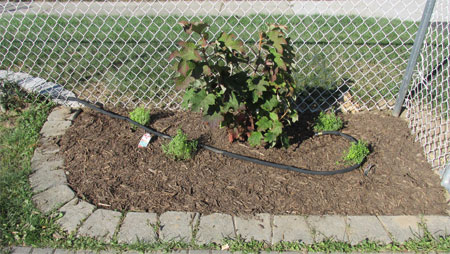 Previously nothing but wild violets, aster, and a maple stump, Birchcrest planted a dwarf oakleaf hydrangea and I planted 4 lemon thymes.
Here's a shot from the back corner of my yard.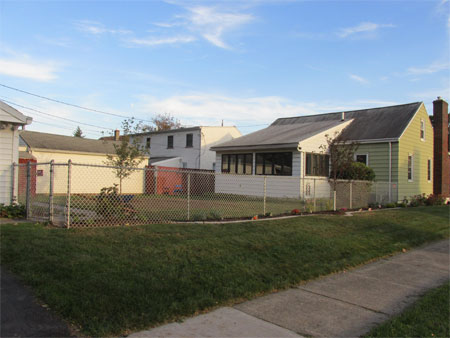 Compare to the photos from a similar location taken before and after the tree removal posted on the 19th.
Here's the backyard now.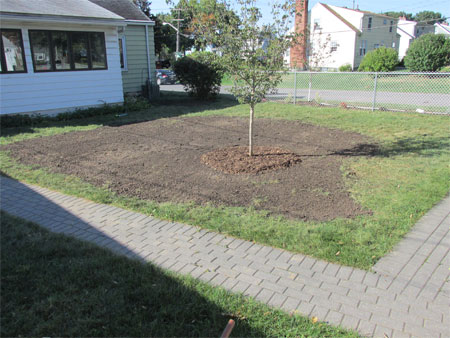 After grinding the stump from that big old maple and removing the mess, Birchcrest brought in a lot of topsoil and planted a kousa dogwood and lots of grass. My front, back, and side yard looks soooo much better, at least to my eye. (I'm sure some people prefer the before photos.) In the spring I'll plant some annuals to fill in both along the side and out front.
So now my task is every-other-day watering of each of the newly-planted areas. Like everything else that is simple, it takes more time and attention than is immediately obvious. Fortunately, the 75′ drip hose along the side doesn't need to be moved till frost, and once I get the new sprinkler adjusted and installed for the grass & dogwood (my 2nd one; I've already returned the first sprinkler as not up to the job) that can stay in place, too. I'll just have to change the hose from one of those to the other. Out front I have to water one side, then move the drip hose and water the other. I set a timer to let me know when to change watering places.
Needless to say, there's been primarily gardening going on this week, along with lawn mowing; precious little weaving. Tomorrow's another day, and my only gardening task is the watering. I'm looking forward to getting back to the loom.