My house had 3 ceiling fixtures that were clearly fan/light combos at some point in their lives, but by the time I moved in the fan blades and mounting hardware was all removed, leaving 3 lights with weird metal parts. I like ceiling fans, especially in the bedroom, and especially since I am not used to air conditioning. I'd much rather have the windows open, although these last few days I admit I've been appreciative of the AC.
Anyway, I ordered 3 Hunter ceiling fan/lights to replace the 3 odd ducks in my ceilings. Decided I'd do the bedroom first. The first 2 fans are called "Five-Minute Fans" by Hunter. HAH!
Now mind you, I've never done this before. My daughter's done it as well as my son, so I figured I'd be brave and do it myself instead of asking one of them. And admittedly, since I've never done it before I was moving slowly and made some silly mistakes I had to undo, but it easily took me 2 hours to install this baby.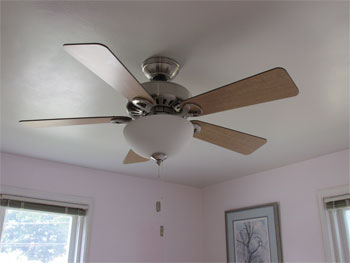 Still, it works like a charm and made me proud of myself.
So today I moved into the weaving studio to install that fan. From start to finish, which included removing the old fixture and cleaning up my mess, took me exactly one hour. I didn't think that was too bad. I obviously learned quite a bit from my first attempt.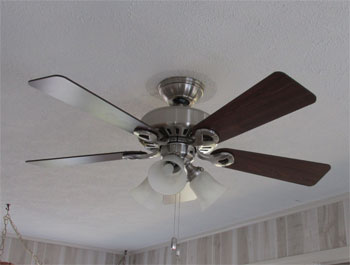 But 5 minutes? I think I'd have to install dozens to get to that time frame, even acknowledging that they admit that the light fixture isn't included in that time. And yes, their video shows a woman doing it in 5 minutes, but I still think it's completely unrealistic unless you do it constantly. For me, it's rather analogous to the tents called EZ Up. I've had 2 of them, and I never found them EZ to put up. All that being said, I would absolutely recommend Hunter fans. The quality is great. I've had ceiling fans before, but nothing as quiet and stable (not at all wiggly) as these two.
On another front, I haven't gotten much weaving done. I was away on that swell family vacation for a week, and didn't feel much pressure to get the last 15″ of JM's wrap woven because I was going to be at a standstill then anyway. Why? The yarn for AF, her sister on this warp, was back ordered. It was supposed to arrive well over a week ago but still isn't in my hands, and until it gets here all I can do is wait. This evening I got the email that it's been shipped & the USPS says I'll get it on Thursday, but I bet I don't have it till Friday.
I have finished JM's and will now start the planning for my chair seats. I may or may not have the yarn I need (I sure hope so-I want to use up my way-too-big stash!), and may or may not get the warp measured before AF's weft yarn arrives. No matter what, as soon as it gets here, I'm off the chair cushions and on to AF's wrap. Then to the next 2 wraps–warp yarn all here, weft here for one, weft for the other to arrive with AF's weft yarn.
So how was I spending my time? Well, I had a wonderful surprise visit with some out-of-town friends who were passing through the area and wanted to see my new home. Delightful!
Then I spent an outrageous amount of time looking at the dogs available through the MANY local rescue organizations. Ultimately I submitted online apps for 4 different dogs, needing to be approved and meet each of them.
On Monday a doggie foster mom brought a little guy over here to visit me. He was very cute, but would have absolutely no part of me. Foster mom & I sat outside on the grass with him for at least 20 minutes, probably longer, and he wouldn't get within 5′ of me. Sometimes was trembling, occasionally with a low growl. This was definitely not my dog. I came back inside and did more online searching.
This morning another doggie foster mom came with another little guy. He pulled at my heart strings and I took the plunge. Meet Jack.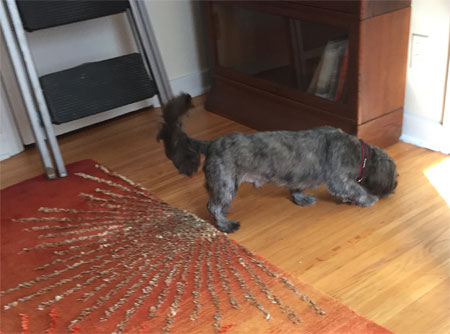 With rescue dogs some things are best guesses, including breed. He's perhaps a mix of Shih Tzu and Lhasa Apso. He's likely 3 years old, and here's his sad story.
Jack (the name I've given him as he didn't have one that he knew) was rescued about a month ago from a hoarder in Kentucky that had 45 dogs. 45! His fur was incredibly matted everywhere, but from the top of his head down to his nose so thickly that he couldn't see anything. When they started carefully cutting away the fur they could see that one of his eyes had a terrible infection, and a vet eye specialist determined that his cornea had ruptured from the infection. Even if they cleared up the infection, he wouldn't be able to see out of it, so best to remove it. While he was under anesthesia he was neutered and had his teeth checked & cleaned. He of course was a mass of fleas, too, and had so many flea bites he had to have antibiotics for them as well as pain meds for the surgery. What an ordeal!
Despite this horrible experience, Jack is very sweet. He doesn't seem to hold any grudges against people for treating him so badly. He is shy but not timid, a gentle soul.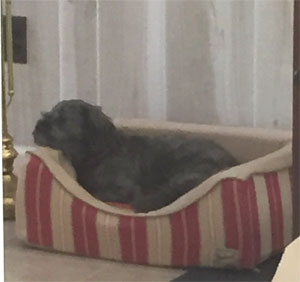 He is appropriately a bit anxious, not knowing me. But not overly. And when my daughter and grandson came to visit, he allowed himself to be petted.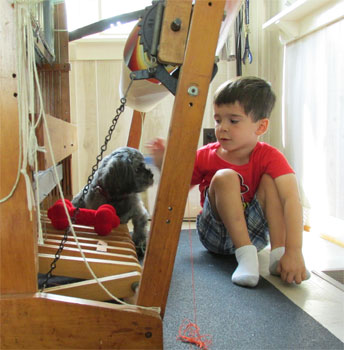 I'm sure we'll get along just fine once he adjusts to his new home. He may or may not be interested in or able to work up to walking up to 3 miles with me in the morning; we'll just have to see how it goes. But his sweetness and temperament spoke to me. He's a quiet and calm guy, which is important to me. I know he likes other dogs, so will be sure to give him some of those experiences once he's a little more settled. In the meantime, my one-eyed Jack & I will spend time bonding.