My realtor strongly suggested I make some improvements to the house in order to get offers quickly. So I am.
I've lived with my front porch for 1/4 century with no railings. I love it like this — the view is great, and I simply don't worry about the fact that much of it is at least 10′ off the ground.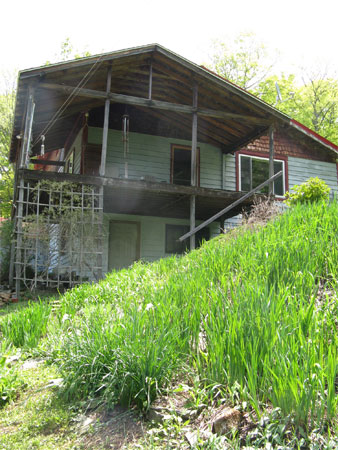 I've also known since I even thought about selling the house that no one could get a mortgage without a railing. I was hoping for a cash sale, but my realtor knows the truth – even a cash sale buyer will want a railing. So I've been working with my contractor to build one. And to make the porch be square/plumb, which it wasn't after standing for 25 years with no braces.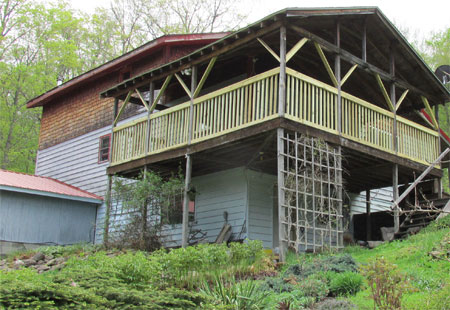 NYS Building Code requires that railings be at least 42″ high when the floor is more than 30″ from the ground, so of course that's what we did. For what it is, my contractor did a good job. I don't have to like it — but only because I'm so used to no obstruction. I will get used to it…and hope that I won't be here for long anyway.
We'll finish the porch tomorrow morning, then on to other 'fixes.' Meanwhile, my realtor is bringing people through tomorrow evening and again on Wednesday afternoon. They'll see all sorts of materials and projects-in-progress. That'll have to be ok. They'll also see 3 flowering crabtrees, a large lilac bush, creeping phlox, and some other garden lovelies in bloom that will hopefully make them overlook the fact that all the work isn't yet complete. Keep your fingers crossed for me.