Many people – weavers and non-weavers alike – think of weaving as a Zen-like experience. Throw the shuttle, beat, throw the shuttle, beat, throw the shuttle, beat. The rhythm and simplicity of the movements do have that potential.
For me, a relatively small amount of time is in Zen mode. Because I tend to do somewhat complex weaving patterns, I'm generally repeating the treadling sequence in my head: 1-2-3-4-3-2, 2-3-4-5-4-3, 3-4-5-6-5-4, 4-5-6-7-6-5 or whatever. My first weaving teacher instilled in me the confidence I needed for complex weaves: "If you can say it, you can do it." That belief has served me well.
Even when I'm weaving my basic hearts pattern, which I've now woven for dozens of yards, I say the pattern repeatedly, or I get distracted by NPR, TV, music, or simply the wanderings of my mind.
Actually, one of the things I like to do when I'm weaving is planning. Planning my next warp. I usually start thinking about it after I've woven a few yards on the current warp. Sometimes I leave the loom and sit down with my weaving software to explore what's in my mind.
That's where I was at 5:30 this morning, working on Fiberworks to try various possibilities. Some weaving books surrounded me for inspiration. I definitely want to weave some more shawls, and I was sort-of-sure I'd work in rayon and/or tencel.
Would I try some doubleweave windows? That's what I really wanted to do, but I needed to do a bunch of testing with cotton to make sure I fully understood the layout. Was I willing to do that?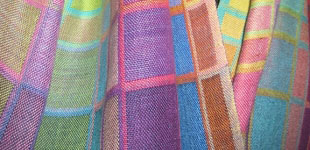 What about doing some single color 8H lace weaves? I knew I could achieve quality in a relatively short amount of time. Maybe trying to warp with 1 strand each of the matte-finish cashmere-silk and the really lustrous tramm silk? How would that work and look? Or maybe warp with the matte finish and weft with the luster?
How about spending some time with color blending and let the color tell the story, not the pattern? Do I have enough colors that play well together to achieve the transitions I want?


Maybe something simple & classy, like an 8H twill in neutral colors? Or a complex weave in a gebrochene, snakeskin, or snowflake twill?
My mind was in a whir. Time to walk away from the planning and get back to the loom. Maybe the answer will come to me while I weave CW's baby wrap and take my walk.
A girl can hope.