Other than the Community Weaving Project, I haven't posted anything I've woven in quite a while For one thing, I haven't been weaving frantically, as I often do, because my slow sales have taken the pressure off me. I'm enjoying the slower pace. It's given me a chance to relax a bit, do some reading, and continue to be creative. Plus deal with everyday troubles like computer problems. It's nice to be able to breathe.
Still, I have been weaving.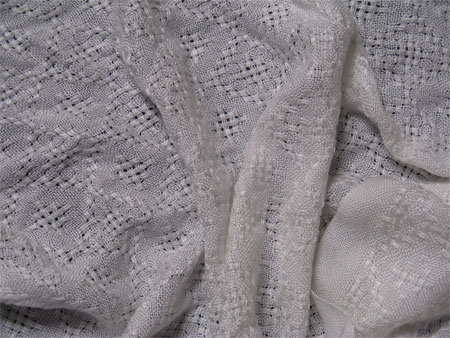 First I wove three white tencel shawls. I used the same weaving draft as I'd used for the cotton eggshell huck diamonds, although the diamonds were repeated more in the rayon since the yarn is much finer.
I also beaded the ends of two of these shawls, using some similar and some improved techniques over the cotton ones.
It didn't surprise me that I sold two of these shawls at my show in July.