It's time to replace the unattractive vinyl sign in my booth. Actually, it's been time for a while.
So at the Roycroft show in June, my sister and I spent some time walking around looking at other artists' signs. What did they have, what did we like, how would it pack, etc. One artist had something that stuck out with both of us.
Questions revealed that she bought it online, and although she had cut it down dramatically, it was purchased as a shower curtain.
What?! A shower curtain turned booth sign?! Yep.
I rarely talk about suppliers on my blog. I'm making an exception here. I also made an exception buying from a business based in Korea; I really try to keep my business in the United States. This time, no one in the States had anything to compare that I found.
Artscow.com sells LOTS of different products, all of which you can completely design yourself. Follow their directions and you'll be fine. At least I was. The price was also right. So what's my new sign look like?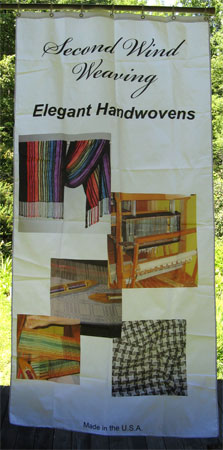 The shower curtain/sign is made of nylon, so it's lightweight and very easy to pack. I made sure to use high res photos so I've got no issues there. It's got pretty heavy fold creases, even after hanging for three days now. I haven't decided if I'll try and press it with a really cool iron or spray it with water and see if the creases hang out that way.
I'm also not sure if I'll use the sign as is, cut off the photos and use them separately, or cut off the photos and use just the words. I won't decide till I do at least my first setup with it. But it will be part of my booth layout in some fashion.
I'm also at work on revising my business cards and once again thinking about the tags I have on all my weaving. I expect I'll improve them, too. Branding and making the correct impression on potential customers is so important, attention must be paid. And must evolve – at least for me it must.