Like most people (I think), I get my creative inspiration from a variety of places – from seeing what other weavers have made, from books, from looking at my stash, from seeing the world around me. The first and last in that list are what led to me weaving two shawls.
These shawls are quite different for me in two important ways: color and fiber content. The color is most significant. I am very used to working with hand painted fibers to create color interest. I'm very comfortable working with solid colors and using weaving pattern to create the interest. I'm gaining comfort with using stripes of different solid colors in a variety of ways to infuse a different appeal.
In these shawls, however, I used many different colors – I think 10 – in semi-random stripes in an attempt to create the impression I want. I wanted to bring a summer sunset to mind, with all the colors it can include, from orange to pink to blue to green to purple to red and an amazing blending at the intersections of them. I think I was pretty successful for my first attempt.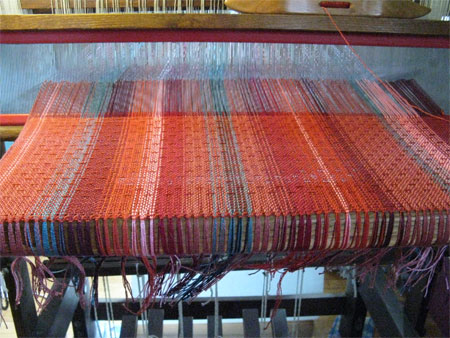 For the fiber, I used 5/2 cotton for the warp & rayon for the weft – I don't remember ever mixing these fibers like this before. I was a bit concerned that the fibers wouldn't play nicely together, that they'd cause unpleasant differential shrinkage or crinkling. I tried it because I knew I wanted to soften the cotton, provide more drape than a cotton this heavy could provide. I also set the threads relatively far apart – at 15 ends per inch – and threaded for a huck lace. I treadled only half of the typical huck pattern – I call it huckish. For all you weavers, here's part of my draft – repeat as needed for width.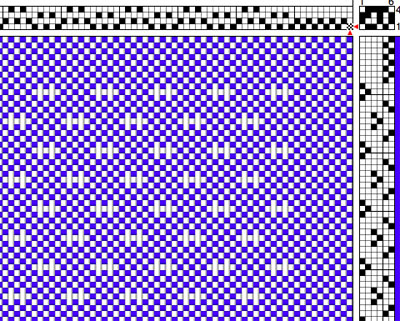 So here's the first shawl, woven with an orange weft.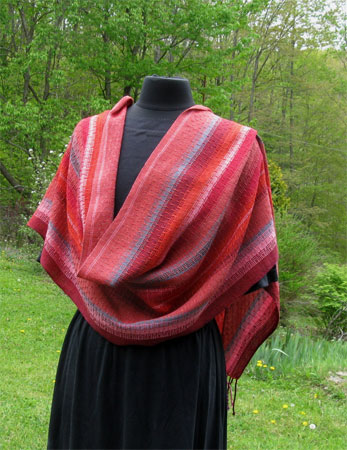 It's my fav, for sure. Doesn't it look nice on Dolly with all that lovely spring green in the background?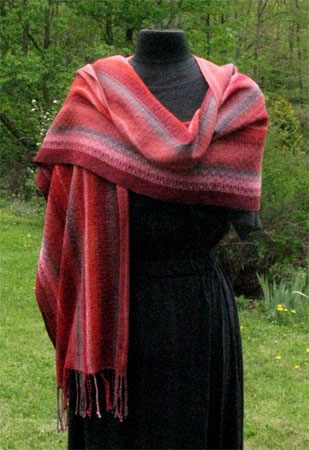 For the second shawl I used a spice weft. It's much darker – probably 20 minutes later into that sunset.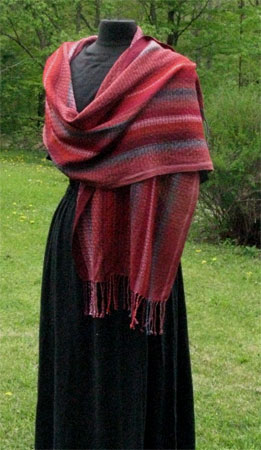 At the show I was twisting fringe and got a lot of positive comments. I think they'll be attractive to my customers at my next show. Of course, I never really know. I just have to weave things that make me happy, that I like, and trust to the process.