At least sometimes that title is true. This time, maybe not so much.
I decided I needed to weave a batch of bookmarks before that little, local show, making sure I had something small and easily affordable. So I warped up the loom and wove 25 bookmarks.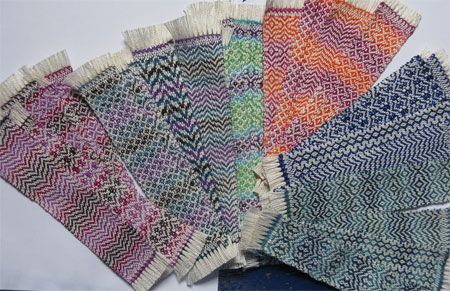 I chose to use mostly bits of hand painted yarns since my customers tend to prefer the look of the variegations.
I'm sure I'll use these, and many more bookmarks through the year – last year I sold over 100 of them. But not this past weekend. I didn't sell any.
The small group of artisans I work with for these local shows learned a bunch this past weekend – like how important it is that we missed getting an article in a weekly newspaper. It definitely showed in our traffic. That's ok – now we know. And besides, we all enjoy each others' company.
Now back to the loom.