A woman I know did me a favor. I tried to return that favor with some weaving but she wouldn't let me – she insisted on paying me.
There's more than one way to skin a cat, you know. I just had to get more creative. I decided I'd make her a scarf and mail it to her, just like she mailed her check to me. I wanted to make something really classy and try a new technique.
I started by deciding on the weaving pattern – I would use the classic drall since I like it so much. I wanted a neutral so figured I'd use a combination of a shiny tencel and a matte unmercerized cotton, both in natural – undyed & unbleached.
The scarf came out lovely.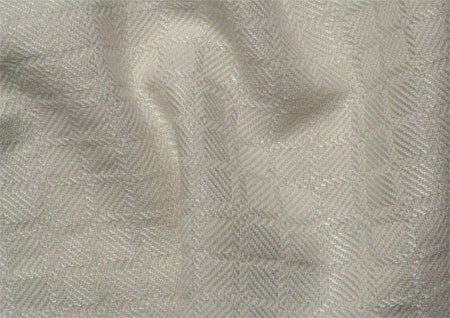 The contrast between the two threads worked just as I hoped it would.
But the job wasn't done yet. I wanted to take another lesson from Susan Harvey and make a beaded fringe. It took me longer than I thought it would – about 45 minutes per end – but I love the finished product.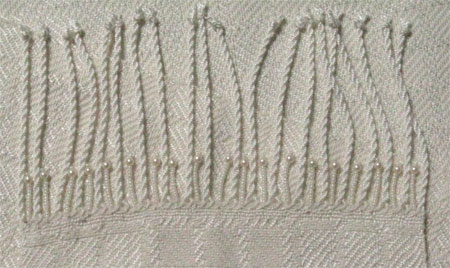 In fact, I'm going to hang on to this long enough to submit it as one of my annual work submissions for Roycrofters At Large Artisan status. I'm also going to do more of this on some of my scarves and shawls and see how my customers like them this summer.