Back in January when I was working on that special order for placemats & napkins I just got the table linens bug. In the process of getting those woven I also wove 9 small towels on the sample warp that got rejected for the special order.
Then I wanted to make something bright & cheery, so wove 14 placemats & a runner in rainbows.
I still wasn't done. Next I wanted to weave towels. Classic towels. I ordered some white, unmercerized cotton & used some of the blue I had from a few years ago. First I wove 4 plaid towels.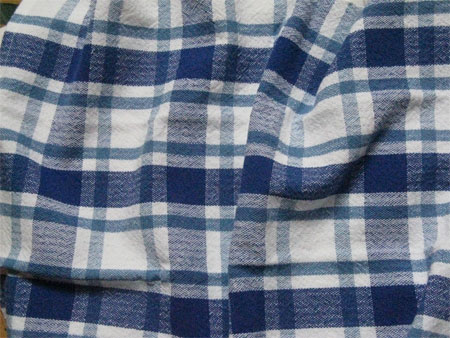 These are my absolute, all-time, for sure, FAVS! I love, love, LOVE these towels. They are really generously sized. I wasn't thinking totally clearly when I was weaving and should have stopped a whole plaid pattern shorter. Too bad! Whoever buys these towels will be grateful for their size, I'm sure. Unfortunately making them so long means I only got four towels where I should have gotten five.
Although I love these towels (did I mention that already?) I don't love working with three shuttles for the three warp colors. It really slows down my weaving process. Part of me thinks it's because I don't weave with multiple shuttles enough, most of me thinks it's just because it's a slower process.
Anyway, for the second half of the warp I used a solid white weft…and made the towels a more 'normal' length. These striped towels are swell; if I hadn't seen the plaid ones I'd think these were the nuts. (I'm sure no one uses that expression anymore!)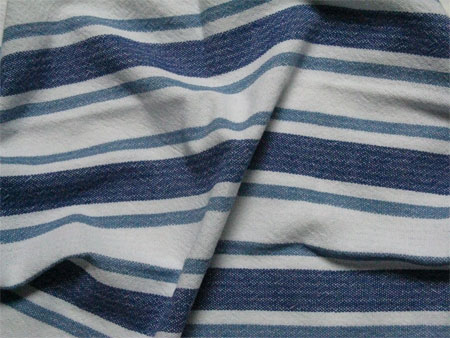 My walking foot for the sewing machine made hemming these towels a dream. I'm in love with this little attachment.
I still wasn't done with towels…you'll see the last batch in the next post. A reminder, only a few days left to get in on my blogiversary giveaway – you'll get one of my handwoven towels!