I don't know about you, but for, talking about an issue helps me think things through & sometimes to solidify my thoughts, come up with the answer I couldn't find silently. So I have long-suffering friends who are patient as I babble on.
When I was talking to Margaret, a non-weaver, about my loom decision challenge, she told me I would know when I had the answer, that it would become clear to me. I wasn't so sure, and told her so.
Days passed with no clarity.
And then on my morning walk, suddenly I realized I did know which loom I would sell. It would be the Varpa. This became clear to me only when I realized that, thanks to the folks at Weavolution, I had several possible solutions to the problem of the Mac pulling the weft apart, and I was willing to try any or all of them. Based on other people's experiences, I had no doubt that one of would solve my problem. But that wasn't really what made that little bell go off in my head — it was the fact that I was willing to try everything from newspaper and saran wrap to aluminum beam covers, replacing the breast beam to sanding and oiling. If I was willing to put this time, energy, and maybe money into it, it must mean I wanted to keep it.
So I said to myself, "I'll sell the Varpa." That felt ok. Then later on I said it over the phone to Margaret. That felt fine, too. No second guessing. It was clear.
Yesterday I took a mess of pictures of it and the accessories that would go with it. I pulled out my receipts for the loom, the books, and the Texsolv I had to purchase for it and added them all up. Then I posted it for sale with four guilds in the region. Figured that sometime this weekend I'd post it on Weavolution, Ravelry, & CraigsList.
Hah!
Within a few hours I got an email from a man who's interested. This morning we spoke on the phone, and he'll come in a few days to check it out and be certain it's what he wants, but he's pretty confident that it is.
I will not make a profit on this loom. In fact, I'll be eating the cost of the van rental I needed to pick it up. (Well, not totally eating it; I will claim the cost on my income taxes.) But I still feel fine about it. Not one whit of seller's remorse — another clue that this is the right decision for me.
Once it's gone I'll get the dining room table back in the house. Then I'll just focus on what I need to do for a bit. If I'm supposed to get another loom, it will have to find me instead of the other way around. (Actually, I'd kind of like to have a small-ish folding floor loom I could put in the back of my little car & use for demos, if you know/hear of anyone getting rid of one cheap.)
So for now I'm weaving on my sweet, little counterbalance. I'll put a warp on the Mac as soon as I've finished the first attempted fix.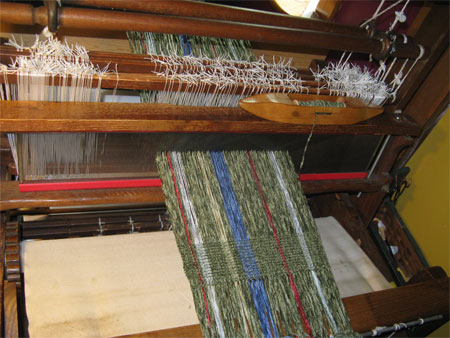 I feel good about it all.