It's been a long time since I've played along with one of Carmi's photographic challenges. I don't know what made me pop over to his blog tonight & decide to take on this week's challenge – angles.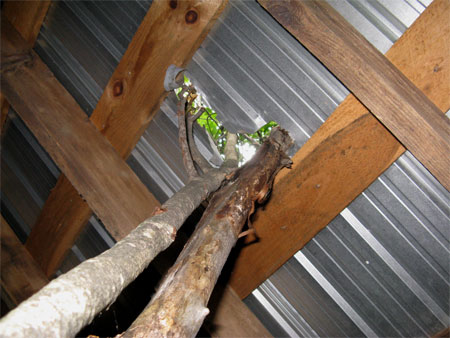 I took this photo a few months ago, after my son had told me that a tree had clearly decided to drop its branches straight down through a tin roof. This particular roof is on a small enclosed space adjacent to our old sugar house that's now used for storage. The tin on this roof isn't all that old – I'd guess about 20 years. As tin roofs go, that's practically brand new.
These branches apparently dropped from a fairly good height, hitting the roof dead on with their broken parts. The bottom of those branches are lodged into the earthen floor of this little shed. Odd how things happen sometimes.
Anyway, this picture is just full of angles, replete with them. (Now there's a word I don't use often.) So Carmi's challenge presented the perfect opportunity to share it with you. Now go play the game yourself.