You know me too well. You knew that I'd find a reason for continuing to work on the Varpa, didn't you?
Well, my heddles aren't here yet, scheduled to arrive tomorrow, but I thought about it, and decided it made most sense to try a 4 harness pattern that I've woven before — on my counterbalance loom — on the Varpa. There are several differences in the tie up on a countermarch loom (the Varpa) from either a counterbalance or a jack loom (the Macomber). I figured I shouldn't make it more complex than it needed to be for my first attempt – go with a 4 harness pattern.
So with some false starts and a few missteps, I started by doing the tie up. It made sense to me, and when I tested it out, the correct harnessses lifted and lowered. GREAT!
On to beaming the warp and threading the heddles.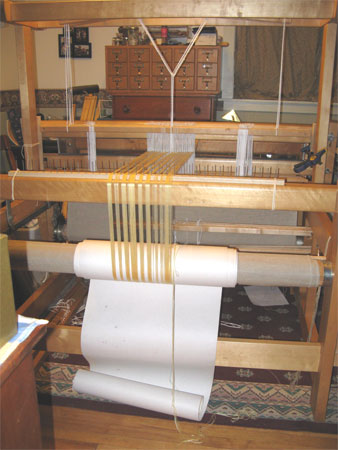 All went well. In fact, I found the threading easy; with the knee beam, breast beam, and beater out of the way, I could get very close to the harnesses. I tied on to the front beam, and was off weaving!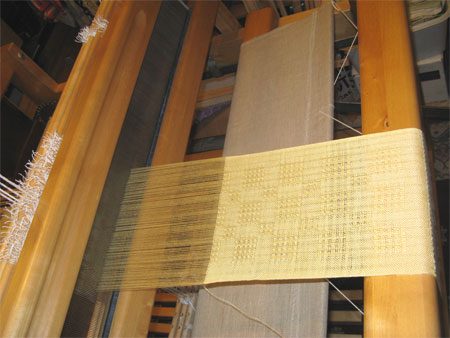 It's a Swedish lace, which I think makes perfect sense for the maiden voyage of this Swedish-style loom. Ok, Varpapuus were actually made in Finland, but it's close enough for me. (How American-centric is that?!)
I've got half of the first scarf in this warp of four woven already. Not as quick as on my beloved counterbalance yet, but I've only been working on it for a short time. I'm confident my speed will improve with practice on this loom. (The color is very off in this photo.)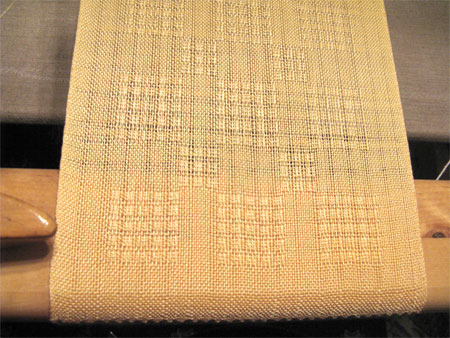 Because I'm so short – specifically, because my arms are so short – I've already made a modification to the loom. It's just temporary at this point, until I figure out the right combination, but it's already made the loom fit me better. I've clamped and/or tied blocks of wood onto the castle so the beater doesn't go as far back as it did. It makes it much easier for me to reach it.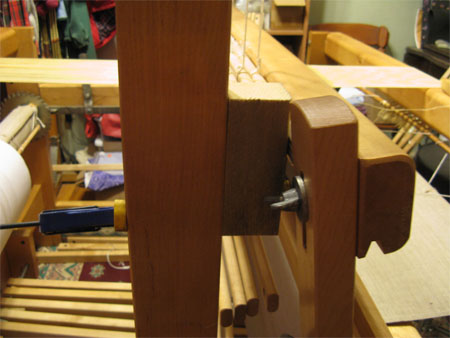 Don't ask me why I'm comfortable making modifications to this loom but not to my Mac or even the counterbalance. The counterbalance is pretty perfect just the way it is; the Mac never felt like home. I hope, and at this point believe, that the Varpa has found its home, after having only short stays with its last two weavers.