I drove 5 hours in my rental van and bought a loom, packed it up, and drove 5 hours home. It's an 8H Varpapuu, made in Finland. The loom can accommodate up to 12 harnesses, and I am thinking I'll add them in the coming months. But first I have to get the loom all set up, learn how to tie up a countermarch loom, and get comfortable with weaving on it with its 8 harnesses.
Wait. Back up. When I got to the seller's house, she was very eager to show me various features and components of the loom, and how to set it up and tear it down. I took several pics to help me remember what things looked like. It's a countermarch loom, so it is both similar to and different from the two floor looms I already own – a counterbalance and a jack.
Here it is from the front.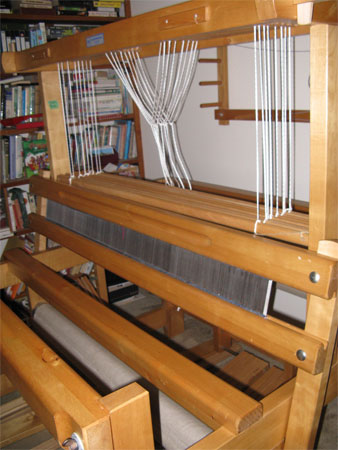 And the back.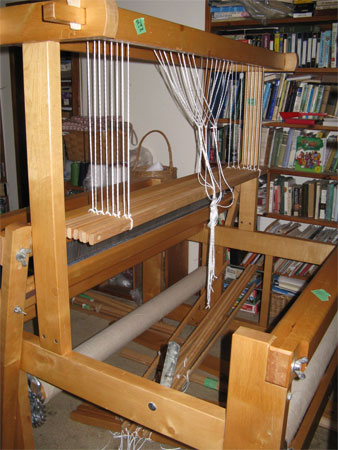 The Varpa has a brake that looks tough!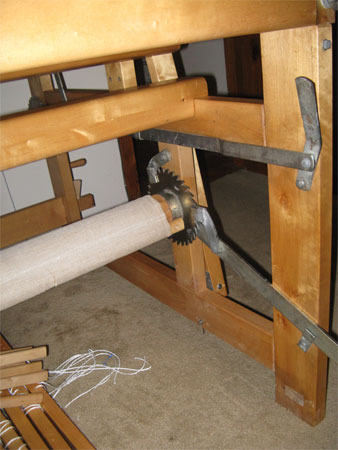 Laurie, the woman I bought the loom from, told me it was quite difficult to set it up alone. Hah! Clearly she doesn't know me. This only made me want to do it more.
So I came home, emptied the van, and set up the frame. By myself, of course.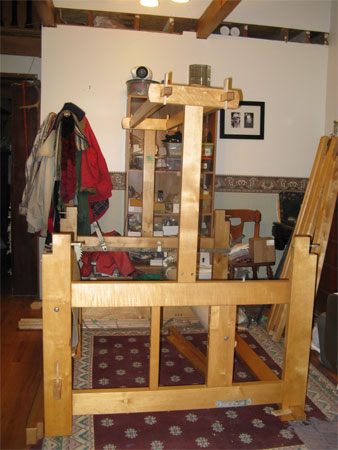 It wasn't the easiest thing I've ever done, but it sure wasn't the hardest, either. Once I had that done, I said to myself, "You've got a show in a few weeks. Leave the new toy alone and go weave!"
"Okay." I replied, pouting.
And I did. For a while. Then I was back in the dining room. Put a bit more together. Made myself go back and weave. Took another break and did more assembly. And exchanged another email with Dawn McCarthy, a veteran weaver who's been REMARKABLY patient and generous with her time.
And so it went till I got to here.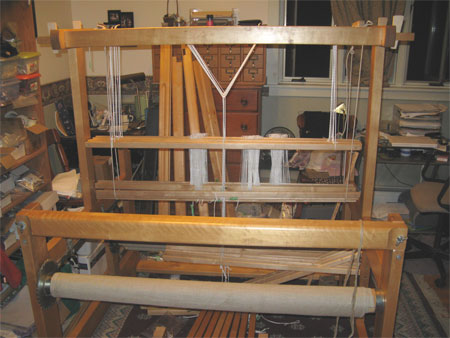 Now I really am at a standstill. I had to order Texsolv heddles for harnesses 5-8. They're scheduled to arrive on Tuesday. Then I'll want to try out an 8H pattern with my new baby. I doubt I'll be able to restrain myself till after the show.
In the meantime, I have been weaving. I think the layout of this batch of Rainbow rayon chenille shawls is better than my last one. At least I thought so till I went back & looked at that photo.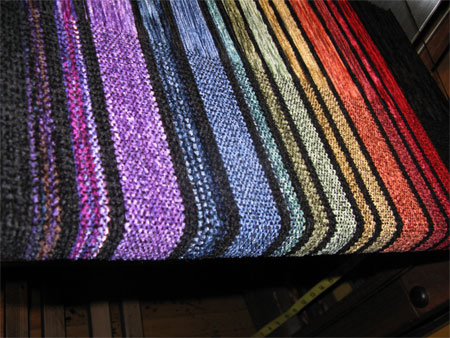 I guess I just love the rainbow shawls. Not fun at all to beam a 9 yard, wide warp of rayon chenille, but for me, it's all worth it. Making these handwoven shawls just makes me smile.